Australia's Regional Express (Rex) remained in the red in its full-year earnings, as it laid the blame on the "legacy effects" of the Covid-19.
For the year to 30 June, Rex reported a pre-tax operating loss of A$31.7 million ($20.6 million), narrowing from the A$109 million loss in the year prior.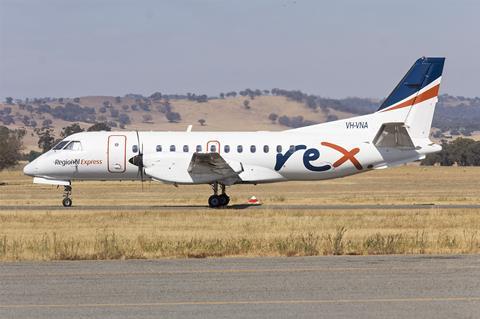 Rex saw revenues double year on year to A$643 million, with the sharpest increase seen in passenger revenue.
Fuel costs jumped two-fold compared to the prior year to A$135 million, in line with an increase in operations. Non-fuel costs and other operating expenses rose about 49% year on year to A$533 million.
Airline executive chairman Lim Kim Hai says: "The legacy effects of Covid-19 continued to smash the aviation industry…manifesting itself in acute pilot shortages and severe dislocation of the supply chain."
The airline in late-June issued a surprising loss forecast for its annual earnings, an about-face from its optimism of returning to profitability earlier this year. The reversal followed months of "cautiously optimistic" expectations of a full-year profit.
For the present financial year, which ends 30 June 2024, Rex declined to provide any profit guidance, citing "uncertainty in the global outlook".
Still, Lim says prospects in the coming months "seem much brighter", noting that revenue is expected to pick up with additional Boeing 737s entering the fleet to "bolster our domestic expansion plans and revenue".