Korean Air posted slimmer profits in the first quarter of this year, as rising fuel and operational costs offset an increase in revenue on the back of travel demand recovery.
In financial results for the three months to 31 March, the Seoul-based operator also warns of a weaker cargo market caused by "uncertainties" amid a global economic slowdown.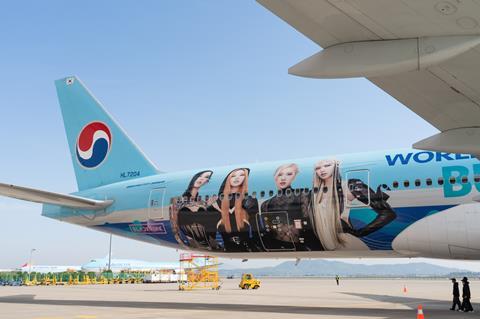 Korean Air reported a quarterly profit of W415 billion ($318 million), down 47% year on year. The carrier's revenue for the period was up 14% to W32 trillion, with passenger travel revenue up four-fold following the easing of border restrictions.
System-wide traffic quadrupled year on year, while capacity was up more than two-fold, according to the airline's traffic statistics. The airline was operating at around 68% pre-pandemic capacity by end-March, it states.
However, Korean Air reported a 50% decline in cargo revenue, caused mainly by the economic slowdown, as well as an increase in bellyhold capacity and "fierce competition" among cargo operators. Cargo demand shrunk nearly 22% from the record high seen in the year-ago period, with capacity down 11%.
The overall increase in revenue was outpaced by a 38% jump in expenses, with fuel-related costs up 51% year on year. Korean Air notes that fuel made up more than a third of costs in the quarter, the largest proportion seen in at least four years.
In its passenger business outlook, the SkyTeam carrier expects demand to "normalise" and recover fully by the second-half of the year, led by "strong leisure demand".
It notes that its long-haul operations, especially to North America, will remain strong in the near-term, with demand mainly from transit passengers.
On its short and medium-haul network, Korean Air expects demand to pick up further in the current quarter, with Japan and China scrapping border restrictions. It aims to "accelerate" the capacity ramp up through its network, focusing on flights to China, Europe and the Americas.
On the other hand, the airline anticipates "market stagnation" for its cargo business, amid weaker market conditions. To this end, it will work to "secure revenue" though schedule flexibility and partnering with shipping companies.
"Korean Air plans to closely monitor the market and secure new freight demand to expand its revenue scope. The airline also seeks to expand sales opportunities by flexibly utilising passenger aircraft belly cargo capacity on resuming routes," the carrier states.