Ryanair is expecting full-year net profit of up to €2.05 billion ($2.2 billion) despite higher fuel costs and uncertainties over Boeing 737 Max deliveries.
The airline cautions that up to 10 of the 57 737s due for delivery before summer 2024 could be delayed until the winter season.
"We are working with [Boeing] to minimise delays ahead of [the summer peak]," the carrier stated as it disclosed half-year results.
Ryanair is aiming to reached 183.5 million passengers for the full year 2023-24 but it says this figure "depends on Boeing meeting [its] deliveyr commitments between now and year-end".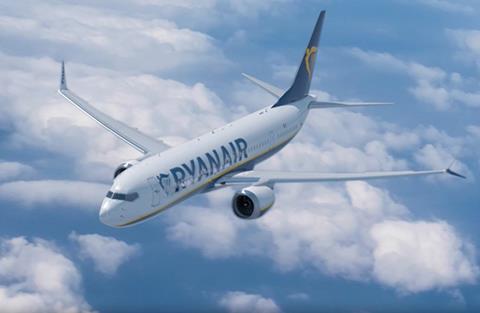 All 737 Max jets are fitted with CFM International Leap-1B engines. The airline believes the impact of engine repairs on Pratt & Whitney-powered aircraft operated by competitors will further constrain capacity – already tight as a result of reduced aircraft deliveries – and Ryanair expects its third-quarter average fares to increase over last year's.
But unhedged fuel costs are "significantly higher", it adds, and the carrier believes replication of the "bumper" third-quarter performance in 2022-23 is "unlikely".
Ryanair nevertheless predicts that it will deliver a full-year net profit of €1.85-2.05 billion.
Over the first half the carrier turned in a net profit of €2.18 billion, substantially up on the previous interim of €1.37 billion, on revenues of €8.58 billion. Ryanair kept the rise in operating costs to 24%, with expenditure amounting to €6.16 billion.