Ryanair has observed an improvement in Boeing's output of 737 Max jets following issues with production delays last year, according to group chief executive Michael O'Leary, prompting the carrier to upgrade its delivery expectations for the coming months.
Ryanair only received 12 of the 21 737 Max 8-200 twinjets it was scheduled to take in the September-December 2022 period, O'Leary says, but is now "much more positive" about the trend through to mid-2023.
"A lot of the production delays that we were experiencing last summer and in the autumn have materially improved," O'Leary said in London on 17 January as he launched Ryanair's UK summer schedule. "To be fair to Boeing, the production seems to have ramped up."
His comments were made on the day that a report from financial firm Jefferies estimated Boeing's 737 production rate last year in the "mid-20s" monthly, despite the airframer having said in early 2022 that it was aiming to boost production to 31 aircraft.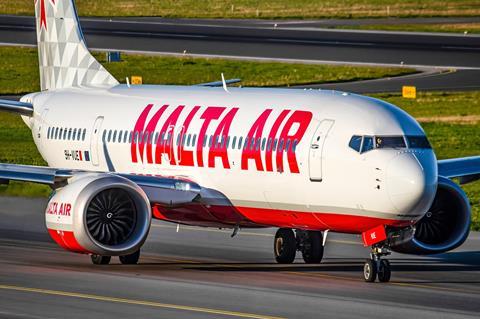 Like many manufacturers, Boeing has faced supply chain issues and labour shortages coming out of the Covid-19 crisis, but O'Leary says that progress on the latter issue has been observed in recent weeks. Specifically, he claims that a drop in Covid-related staff sickness at Boeing has helped to alleviate a situation where the airframer "could not get the planes through the production facility fast enough".
Ryanair has therefore revised its pre-Christmas assumption that it would have received "maybe 35-40" of the CFM International Leap-1B-powered aircraft by the end of June – out of 51 scheduled for delivery in the September 2022 to June 2023 period – to "somewhere between 40 to 45, with a realistic prospect of getting 45".
Still, amid the lack of clarity on the total it will receive by mid-year – at which point O'Leary says the airline would be too busy with the peak travel period to take any more jets – Ryanair is currently holding back 10 aircraft-worth of flights from its summer schedule.
During 2022, Boeing executives frequently cited parts shortages, manufacturing quality problems and a lack of skilled workers as factors limiting 737 production.
Despite those challenges, it did meet a downward-revised target of delivering 375 737s across the 12 months, including newly produced 737s and jets it had produced during the 737 Max grounding.
Ryanair has around 85 737 Max 8-200s in its fleet, alongside more than 400 737NGs.