Ryanair is likely to focus on organic growth in the coming years, having found its acquisitions to be "a pain in the arse", according to group chief executive Michael O'Leary.
Speaking in London on 17 January as he launched Ryanair's UK summer schedule, O'Leary said the low-cost giant is "much keener on organic growth and ordering more aircraft" than looking to acquire other carriers.
"We've done two M&As," he states. "We did Buzz at Stansted about 20 years ago, we did Lauda in Vienna about four years ago.
"Both of them have been a pain in the arse."
Among his reasons for disliking acquisitions, O'Leary explains that "it's very challenging from a cost point of view, as you are generally buying someone else's mess and then it takes three or four years to tidy it up".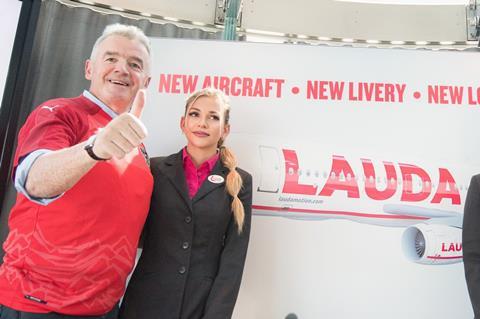 On Ryanair's experience, he describes the timing of its acquisition of Austrian carrier Laudamotion in early 2019 as "spectacularly awful".
"We bought it just before Covid shut flying down for two years," he says, adding that the unit is now profitable and growing.
He further laments the regulatory challenges that come with acquisitions activity, citing his carrier's multiple failed attempts to purchase Aer Lingus.
"Most M&A in the case of Ryanair gets blocked by the European Commission," he says, complaining that legacy carriers have not been subject to the same roadblocks in their acquisitions activity.
Moreover, O'Leary says that Ryanair has a "skinny management team" and that organic growth is proving "so efficient" for the business.
That said, the Ryanair chief has plenty of ideas regarding consolidation elsewhere in the region.
He repeats his belief that Europe will eventually be dominated by four large airline groups – and adds that Covid-19 has "dramatically accelerated" consolidation moves.
"Covid will be seen as delivering a huge inflexion point in European aviation," O'Leary states, noting that the region is emerging from the pandemic with "six large airlines": Lufthansa Group, IAG, Air France-KLM, Ryanair, Wizz Air and EasyJet.
Further acquisitions activity is likely to follow, he suggests.
"[ITA Airways] is probably going to finish up with Lufthansa in the next three or four months, [TAP Air Portugal] will finish up in IAG, then I think EasyJet will finish up being bought by either IAG or Air France-KLM, or both jointly, and then Lufthansa will buy Wizz.
"We are morphing into a marketplace where there are going to be four large carriers, not unlike North America."
As that plays out, O'Leary predicts "no meaningful capacity growth in Europe" over the coming years, as airframers grapple with a "huge backlog" of aircraft orders and high interest rates mean less venture capital money is available for start-ups.