Ryanair's aircraft allocation procedures mean passengers will not be told during the booking process whether or not their flights are due to be operated by Boeing 737 Max jets, according to group chief executive Michael O'Leary.
He suggests, however, that the Irish carrier's customers are unlikely to view this as a problem because "confidence in this aircraft will restore very rapidly".
"The reality is [if people want to know whether or not they are due to fly in a Max jet], the answer is that you won't," O'Leary tells FlightGlobal in Brussels on 10 December. "Because we won't know. We do our aircraft allocations on a nightly basis. You're booking your ticket six, eight weeks in advance."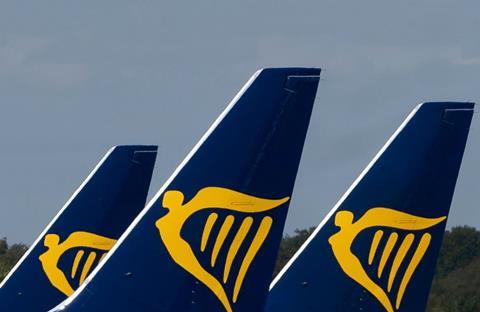 Other Max operators, including Southwest Airlines and United Airlines, have indicated that customers will be made aware of the aircraft type they are due to fly on in advance of the travel date.
But noting that he would place another order for Max jets "tomorrow, if the price was right", O'Leary cites the example of consumers quickly regaining confidence in the Boeing 787 following the type's grounding over safety fears in 2013.
"I think the best example of [a similar issue with an aircraft type] is the 787 – when it had the lithium-ion battery [issue] and was grounded while they replaced the batteries, there was concern about customer sentiment," he recalls. "Customers got over it about a week after the plane was back flying."
Describing the Max as "a great aircraft", O'Leary states that "people will love the interiors, they love the seat, wider seat pitch, more leg room, quieter engines".
He also suggests the type will be "the most audited, the most certified, the most rigorously regulated aircraft delivery into service in history", which should give passengers confidence in its safety.
"On a daily and weekly basis as it racks up thousands of flight hours very quickly, I think confidence will return very quickly," he adds.
O'Leary concedes that "another [safety] event" – which would likely be "human failure" rather than "mechanical" – could "certainly set things back significantly".
He expresses confidence, however, in the work being done by the FAA and EASA towards the type's return to service, citing a belief that regulators and airlines will complete all required steps "professionally".
"That's one of the reasons we're saying to Boeing we're not taking aircraft in July and August – we're too busy," he explains of Ryanair's Max order backlog. "If you can deliver us planes in May or June we'll take them. And we want to take the first 5, 10, 15, 20 so that get some experience actually flying the aircraft during the summer peak next year."
O'Leary notes that Ryanair currently expects "10 Max aircraft to be delivered in May and June of next year, with the possibility that might become five, it might become zero", based on current uncertainty about when the type will return to service.
He clarifies that should deliveries not be possible by June, the Irish carrier would delay receipt of its first Max jet until after the July-August peak travel demand period.
Ryanair had been due to receive its first 737 Max 8 in April 2019, but Boeing suspended deliveries in March in the wake of the global grounding.
Cirium fleets data shows that Ryanair has 135 Max 8s on firm order and holds options on a further 75.