Ryanair Group chief executive Michael O'Leary believes that Europe's legacy carriers will seek to undermine competition and push up fares by holding on to their unused slots into summer 2021 and even 2022.
Speaking to air traffic manager Eurocontrol for its Aviation HardTalk webcast series, the outspoken airline chief warned that such moves by legacy carriers could prevent capacity returning to the skies when a post-Covid demand recovery materialises next year.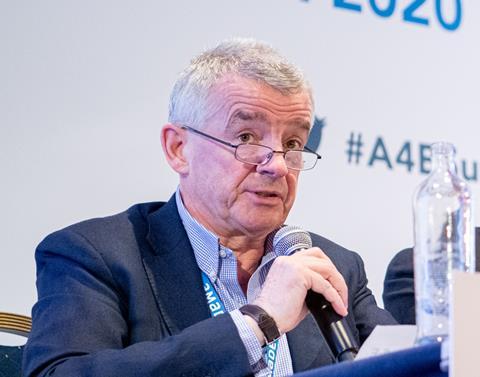 "The [legacy carriers] are going to try get slot extensions so that they can squat on their slots, and constrain growth and keep prices high," says O'Leary. "Unless you have additional capacity into that marketplace to take up the slack that would be left by Norwegian, EasyJet's cutbacks, then prices will rise."
The European Commission has suspended normal take-off and landing rules that remove slots from airline if their usage falls below a certain level, on the grounds that forcing carriers to operate flights amid collapsing demand would be financially and environmentally disastrous.
O'Leary singles out KLM's operations at Amsterdam Schipol for particular criticism, calling the facility "artificially constrained". He sees no reason for a slot limit at the airport.
Delays to the opening of a low cost alternative airport are, he speculates, the product of the Dutch government's wish to "limit KLM's competition while giving them three and a half to four billion of state aid anyway". He adds: "That repeats at other airports."
While Ryanair would like to expand in Berlin, Rome and Amsterdam, he says they will be prevented from doing so if the slot waiver rule is extended.
O'Leary posits that legacy carriers are acting to stifle competition in part because they are suffering from dramatic declines in their long-haul traffic.
"The bigger guys are actively trying to extend the slot waiver into 2021, because they know the long-haul will take longer to recover, and a huge amount of the short-haul traffic either feeds into or feeds from their long-haul business. So they are actively want to constrain capacity next summer, keep the planes on the ground, keep the fares high on whatever they fly, and rip off the consumer again – despite the fact that they've received over €30 billion in state aid."
Surveying the European marketplace, O'Leary says he could see Wizz Air and EasyJet merging to become the fifth major airline group on the continent, alongside IAG, Ryanair, Lufthansa and Air France: "The jury is out over whether EasyJet survives longer term as an independent airline given its very high cost base, or whether Wizz overtakes it or maybe Wizz merges with EasyJet and forms a fifth competitor… I'm not sure."
He adds: "I suspect it could well be some kind of amalgamation between Wizz and EasyJet, maybe Wizz and EasyJet and then merger with a Lufthansa or an Air France as well."
O'Leary also suggests that IAG may struggle to maintain ownership of British Airways under its European structure, post-Brexit.