Ryanair chief executive Michael O'Leary fears improved service reliability this summer from higher staffing levels across the airport ecosystem could be offset by the impact of air traffic control strikes and continued airspace restrictions because of the war in Ukraine.
"I think summer 2023 will be materially better. The airports, security, the airlines, the handling agents are much better staffed and prepped for the summer," O'Leary said during the A4E Aviation Summit in Brussels, organised in association with FlightGlobal, on 29 March.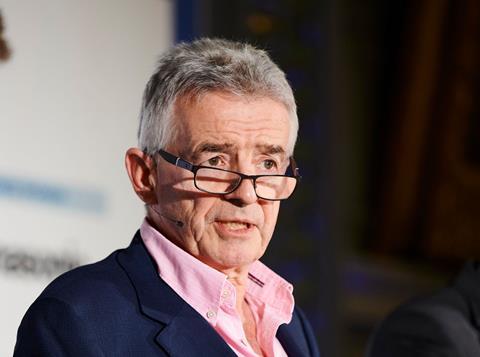 "However, that doesn't mean that summer 2023 isn't going to be difficult. Air traffic controller strikes are going to be infinitely worse. There's capacity restrictions on European ATC systems because of the military activity over Ukraine, and because of the overflights [ban] over Russia, all the Asian flights are being funnelled down past Germany and southern eastern airspace. So air traffic control is going to be materially worse."
O'Leary has been particularly vocal about the recent impact of French ATC strikes, noting it was forced to delay 9,000 and cancel 230 flights over the past weekend because of the impact on overflying. He says there have been 23 ATC strikes in France over the first three months of the year compared with just three at the same stage last year – albeit a period in which flying was vastly reduced because of the ongoing impact of the pandemic.
"We got a NOTAM last night [28 March] from French ATC asking us to cancel 60 flights tomorrow [30 March], less than 48 hours' notice, and also the 'wonderful news' that these daily French ATC strikes would continue for the month of April," he says. "We are facing daily cancellations on flights that are not from France, while the French protect their domestic flights."
He reiterated a call for minimum service obligations to be applied to flights overflying countries where strike action takes place to ensure these services are not disproportionately affected.
"The airlines get the blame, because our passengers in Germany or Spain don't understand why their flight is cancelled because a bunch of French air traffic controllers are on strike. They are not flying to France, they are flying from Spain to Italy, but you have to explain to them 'yes, but the sky over France has been shut down'".
The point was echoed by EasyJet chief executive Johan Lundgren, another carrier disrupted by the action. "It's impossible sometimes for people to comprehend that when they are flying from point A to point B, that something happens at point C that makes the flight cancelled." He adds: "It is not just that the flight is cancelled, it is the ripple effect across the whole of the network that make it more impossible for someone to understand why there is a delay."
O'Leary took particular aim at the lack of action by the European Commission and transport commissioner Adina Valean over the issue.
"Their preferred modus operandi is do nothing and hope the problem goes away. We are not asking them to do much. The French domestic flights are protected by French domestic minimum service legislation – all we are asking is the European Commission extend that to the overflights. There would still be some cancellations, but overflights shouldn't take all of the cancellations so you could protect the French domestic flights.
"We've done two or three years of trying to be nice and influence her [Valean], but she doesn't do anything. So we should at least call her out for failing to do something. She was given a roadmap by Eurocontrol three months ago which said prioritise the overflights, take action against European governments where they use minimum service legislation to protect their domestic flights and cancel European flights.
"They need to take action, because if national governments won't act, the Commission is there to impose some action," he says.