Scandinavian operator SAS has detailed a recapitalisation programme intended to run alongside its revised business plan and the implementation of broad efficiency measures.
It says the Swedish and Danish governments, along with its third-largest shareholder – the Wallenberg Foundation – are supporting the plan, through which SAS aims to restore SKr14.25 billion ($1.5 billion) of equity.
SAS will issue just over SKr2 billion in shares, as well as SKr6 billion in new hybrid notes, to the two government shareholders.
Denmark's government will take the larger part of the shares, just over SKr1 billion, with the Swedish government picking up SKr990 million.
The hybrid notes will comprise two separate instruments: the first worth SKr5 billion to be split equally between the governments, while the second of SKr1 billion will be allocated to the Danish government.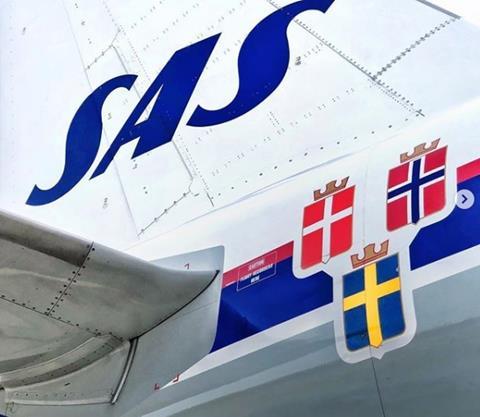 SAS will also issue new shares, amounting to nearly SKr4 billion, to eligible shareholders.
It expects these shares, priced at SKr1.16, to be covered by subscription undertakings and underwriting commitments equating to 81.5% of the total issue.
Sweden's and Denmark's governments will each take nearly SKr1.5 billion in shares, while the Wallenberg Foundation will subscribe to SKr259 million.
SAS will undertake a debt-to-equity conversion of SKr2.25 billion in bonds, due in November 2022, to common shares. The plan also covers conversion into common shares of SKr1.5 billion in capital securities. Holders of both will be asked to approve the conversions at a meeting on 17 July.
Conversion of the bonds and hybrid notes is one condition of the government shareholders' participation, which also depends on regulatory approval and exemption from mandatory bid obligations.
The Wallenberg Foundation also requires the governments' participation as a condition of its own involvement.
SAS says it will hold an extraordinary general meeting to approve the recapitalisation plan around 25 August.
Board chair Carsten Dilling says the plan offers a "balanced way forward" given its scale and the measures to distribute the burden.
"I count on SAS employee groups to support the recapitalisation plan by finding solutions to deliver the required efficiency improvements," he adds.
Issuing the SKr12 billion of new shares and converting SKr2.25 billion of debt to equity will restore SKr14.25 billion in equity to the company.
SAS says that, in addition, the Norwegian government – a former shareholder – is offering SKr500 million in commercial agreements, in order to financially support a "certain level" of network capacity from the carrier.
This contribution from Norway will enable SAS to achieve its overall SKr12.5 billion target of new funding.
Following completion of the share issues under the recapitalisation plan, says SAS, the governments of Denmark and Sweden will end up holding the same number of shares and votes in the company.
SAS warns that, if the plan is not implemented, it will "not be able" to remedy the liquidity shortage and negative equity caused by the coronavirus crisis, and that this would have a "material adverse effect" on its financial position.
It says that holders of bonds and hybrid notes would be unlikely to recover claims if, as a result, SAS was forced to file for bankruptcy.