Saudia and its low-cost unit Flyadeal will launch services to a long list of international destinations this year, underscoring the group's continued importance to Saudi Arabia's aviation roadmap despite the recent creation of a new national carrier.
Among the points to be served are several that appear to be new to the carriers, including Baku, Beijing, Birmingham, Bodrum, Chittagong, Djibouti, Lisbon, London Gatwick, Rhodes, Sarajevo and Tbilisi.
"Given the increase of demand in international travel, this is the right time to expand our global network in new, exciting ways," says Saudia group director general Ibrahim Al-Omar.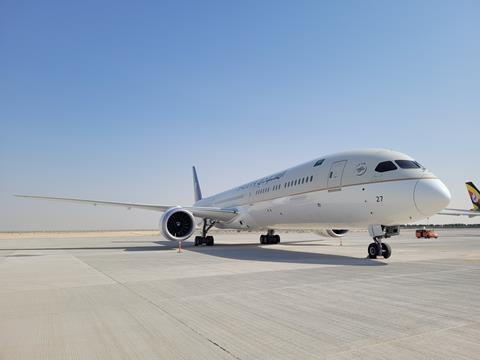 A total of 25 international destinations have been announced for launch in 2023, although some were previously served by the group. It has not specified from where the points will be served – both carriers are based in Jeddah but have sizeable operations from Riyadh – nor which airline will operate which of the short-haul routes.
Saudia says further details will be released in due course.
The group's announcement comes days after the Saudi government announced the launch of a new Riyadh-based national airline, Riyadh Air. The new carrier's commitment for up to 72 Boeing 787-9s came alongside a commitment for up to 49 more for Saudia.