Following massive losses for its 2020/21 financial year, Singapore Airlines (SIA) has moved to further shore up its cash position with a S$6.2 billion ($4.6 billion) convertible bond issue.
The offering constitutes the second tranche of its Mandatory Convertible Bonds (MCB) programme, originally approved by shareholders on 30 April 2020, says SIA.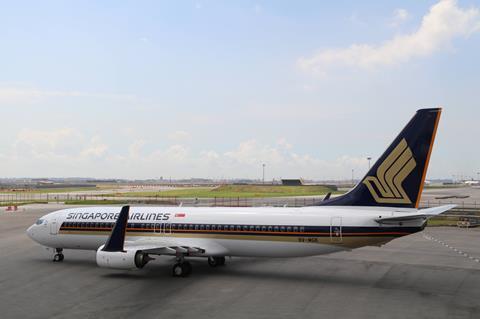 Shareholders will be offered 209 MCBs for every 100 shares held, with the MCBs treated as equity on SIA Group's balance sheet.
It adds that the group's largest shareholder, Singapore sovereign wealth fund Temasek Holdings, has undertaken to subscribe to both its allotment of MCBs, as well as any remaining MCBs not taken up by other shareholders. Temasek owns 55.92% of SIA Group.
"The liquidity that we will raise through the MCBs will further strengthen our financial position during these uncertain times, while providing the resources to position the SIA Group for growth and leadership," says SIA chairman Peter Seah.
"We have worked hard to retain and prepare our talented people to continue delivering the world-class service that SIA is renowned for."
The fund raising follows S$14.6 billion of liquidity raised during the 2020/21 financial year, during which the group suffered a record net loss of S$4.3 billion amid the coronavirus pandemic, which has crushed international travel in the Asia-Pacific.
According to SIA's results for the 2020/21 financial year, it raised S$8.8 billion from a an April 2020 rights issue, S$2.1 billion from financing Airbus A350-900s and Boeing 787-10s, S$2 billion from convertible bonds, S$1.2 billion from sales and leasebacks, and S$500 million from new lines of credit.
As of 31 March, the group's cash and cash equivalents stood at S$7.8 billion, up from S$2.7 billion a year earlier.