Singapore Airlines Group expects to return to pre-pandemic capacity in the 2024 fiscal year, amid robust travel demand which has led the airline to post a 26% jump in half-year operating profit.
In its half-year results for the period to 30 September, the airline group – comprising mainline operator Singapore Airlines and low-cost arm Scoot – says capacity is expected to be around 92% of January 2020 levels by the end of this year.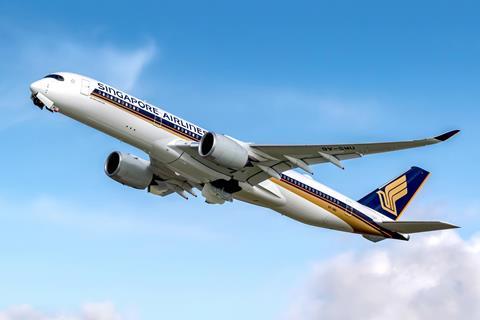 By the 2024/25 financial year, which begins in April next year, it expects to make full capacity recovery "with the progressive ramp-up of services across the network".
As of 30 September, SIA's passenger network covered 75 points globally, while Scoot served 67 destinations.
The forecast comes as the airline group improved its half-year and quarterly profits, on the back of "robust" demand in the northern summer operating season.
For the half-year, SIA Group posted an operating profit of S$1.55 billion ($1.14 billion), an increase of 26% year on year.
Half-year revenue rose 8.9% to about S$9.2 billion, led by a 26% jump in passenger travel revenue. SIA Group carried more than 17 million passengers in the half-year, a 52% rise year on year.
Traffic grew 38%, outpacing a 28% increase in capacity and resulting in a near six percentage point improvement in passenger load factor to a record 88.8%.
The robust passenger travel demand contrasts with a sharp decline in the cargo market, with SIA Group reporting a 49% decrease in cargo revenue for the half-year.
"The demand for air freight remained soft due to inventory overhang, as well as geopolitical and macroeconomic headwinds," the group says, pointing out that cargo loads have fallen 6% year on year.
Meanwhile, SIA Group saw a 6% rise in costs to S$7.6 billion, with an increase in non-fuel expenses offset by a decline in net fuel costs.
The group reported a 55% increase in net profit to S$1.4 billion, on the back of strong operating performance.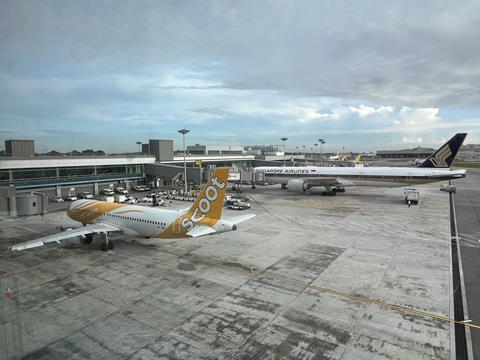 On a quarterly basis, SIA Group reported a record operating profit of S$799 million, an 18% improvement year on year.
Revenue increased 4.3% year on year to nearly S$4.7 billion, outpacing a 2% increase in costs to S$3.9 billion.
In its outlook, SIA Group expects air freight demand to remain soft, amid excess inventories, geopolitical tensions and macroeconomic challenges.
It also warns of "significant capacity restoration" among Asia-Pacific airlines "putting pressure" on passenger yields. The group, which had an early headstart in capacity injection before the emergence of pent-up demand in 2022, says it will "closely monitor market conditions and adjust its operations as necessary".
"Heightened geopolitical risks and macroeconomic uncertainties continue to pose challenges for the airline industry. High fuel prices due to supply risks in the oil market, and inflationary pressures on non-fuel costs are [also] key concerns," it adds.