Singapore Airlines and Garuda Indonesia are looking to enter into a joint-venture agreement which will see the two carriers expand their existing partnership and potentially increase capacity between Singapore and Indonesia.
Under the proposed agreement, both flag carriers could potentially coordinate their schedules on flights between the two countries. The joint-venture, if it gains regulatory approvals, will cover flights between Singapore and Jakarta, Surabaya and Denpasar.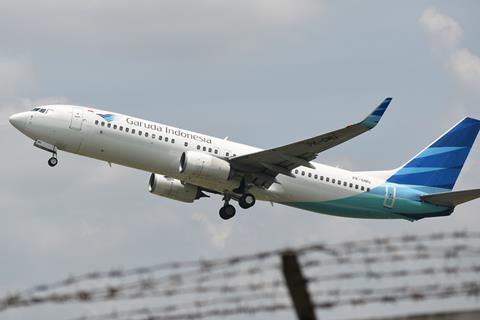 "The carriers will also explore the implementation of new initiatives, including joint fare products and an alignment of corporate programmes to enhance the value proposition to customers," say both SIA and Garuda in a joint statement.
The proposal comes more than year after both carriers signed a memorandum of understanding to explore broader partnership opportunities, namely additional codeshares. Under that MOU, Garuda placed it code on SIA flights to London Heathrow, Johannesburg and Mumbai.
The two carriers also "committed to finding new growth opportunities" in areas such as air freight and MRO services.
SIA and Garuda also have an existing codeshare arrangement that dates back to 2010, on several flights between Singapore and Indonesia.
Garuda chief Irfan Setiaputra says: "The joint venture agreement is…a part of our efforts to improve our company's performance through our network strategy by optimising our network through partnership with our strategic airline partners, especially Singapore Airlines."
Adds Goh Choon Phong, SIA's CEO: "[The partnership] reflects our firm commitment to grow the aviation markets in Indonesia and Singapore, facilitating a greater level of business and people connections and promoting both countries as regional tourism destinations."
Garuda is a member of SkyTeam, SIA of Star Alliance.