Singapore Airlines Group improved its first-quarter operating profit on the back of strong travel demand, though it warns that competition "is expected to intensify" in the coming months as international capacity grows.
For the three months to 30 June, the airline group – comprising mainline operator Singapore Airlines and low-cost unit Scoot – posted an operating profit of S$755 million ($570 million), up 36% year on year.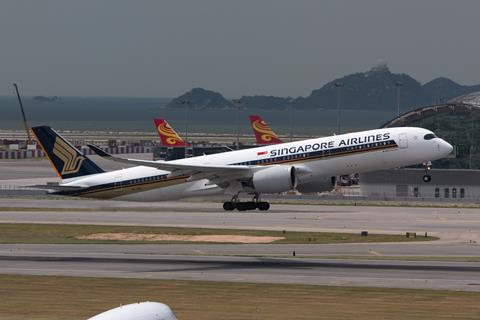 Group turnover rose 14% year on year to S$551 million, driven mainly by a 37% jump in passenger revenues. That helped offset a 51% reduction in cargo earnings.
Passenger traffic growth of 49% outpaced the additonal 32% of capacity it added during the quarter. Both SIA and Scoot carried carried 8.4 million passengers during the quarter, a 65.5% increase year on year.
However, cargo demand continues to soften, notes SIA Group. Cargo loads fell 11%, despite a 12% increase in capacity.
SIA Group reported a 10% increase in quarterly costs, to S$353 million, led by a rise in non-fuel expenses as it lifted capacity.
The group doubled net profit to S$734 million – its highest quarterly net profit ever.
It ended the quarter with 199 aircraft in its fleet, the majority of which – 137 – are operated by SIA.
In its outlook, SIA Group expects travel demand to "remain robust" across all regions through the peak summer travel period. It is on track to operating at around 90% pre-pandemic capacity by March 2024, the end of its current financial year.
It adds: "The SIA Group is well positioned in this operating environment, even as competition is expected to intensify in the coming months as more capacity is injected into international routes. The group will monitor these trends closely, and adjust its capacity and network accordingly."
On cargo, it notes that demand will remain soft in the near-term, while a global increase in bellyhold capacity will increase competition and "exert downward pressure" on yields.