Singapore Airlines Group has made significant changes to its order book– by swapping Boeing 787-10s for more 777-9s – in a move that sees it defer more than S$4 billion ($3.01 billion) in capital spending by about three years.
The group states that it will also delay delivery of a number of aircraft, "with the delivery stream spread out beyond the immediate five years".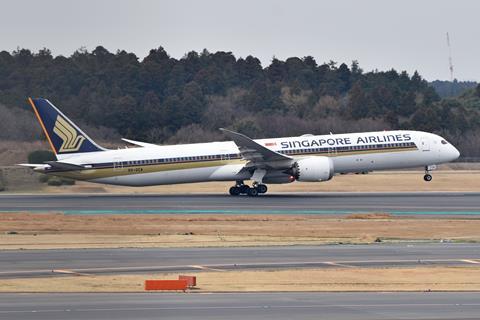 SIA Group also discloses that it will take 11 more 777-9s in place of 14 787s. This brings SIA's total 777-9 orders to 31 aircraft, up from 20 previously, while outstanding commitments for the 787-10 fall to 15, from 29 previously; the carrier has already received 15 -10s, according to Boeing data. Low-cost unit Scoot also has five 787s on order, three -8s and two -9s.
The swap in orders will allow SIA Group to "respond to changes" in its projected long-term fleet needs beyond its 2025 financial year.
The announcement comes after it formally reached agreements with both Boeing and Airbus to "revise" its delivery schedule, though it did not indicate a timeline.
Taken together, the group expects to defer S$4 billion in spending between 2020 and 2023 to later years.
"It would also recalibrate the rate of introduction of capacity, following the disruption to the demand for air travel as a result of the Covid-19 pandemic," SIA Group adds.
According to the latest projected expenditure for the next five financial years, the group is expected to halve its aircraft expenditure in its 2020 financial year, which ends on 31 March 2021, to S$2.8 billion from the originally planned S$5 billion.
It also cut aircraft spending for the 2021 financial year by about a third, from S$5.4 billion to S$3.7 billion.
Apart from the 777 and 787 order swap, the group did not disclose any further changes to its order book. It has 35 Airbus A320neo family aircraft, 15 A350-900s, as well as 31 737 Max 8s on order.
In November 2020, the group disclosed that its discussions with Boeing on aircraft deferrals had reached an advanced stage, while it confirmed that its outstanding Airbus aircraft on order had been postponed.
The SIA group swung to a quarterly operating loss of S$331 million ($248 million) for the three months to 31 December 2020, compared with its S$448 million operating profit a year earlier. Revenues for the three months were down 76.1% to S$1 billion,
Of the SIA Group's 185 aircraft, only 64 passenger jets and seven freighters are in service, with 123 jets parked. Passengers carried fell 97.5% in the last three months of 2020.