Singapore Airlines will "progressively" return four remaining Boeing 737 Max aircraft to Singapore from storage in Australia, as a cabin retrofit programme gets underway for the type.
The Star Alliance carrier disclosed this following the completion of a test flight of a SIA 737 Max from Singapore — apparently its first such flight from the city state since its grounding two years ago.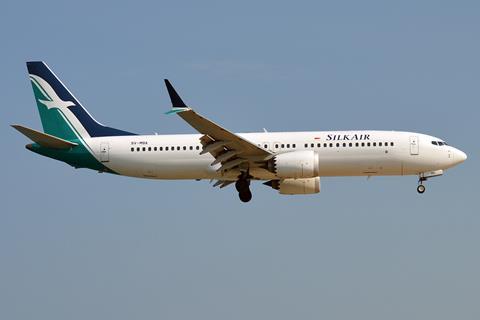 On the morning of 11 March, the 737 Max 8 registered 9V-MBA took off on a test flight from Singapore. Data from flight tracking site FlightRadar24 showed the aircraft, operating flight MI8880, flew for more than an hour, heading eastwards over the South China Sea, before returning back.
It performed a go-around towards the end of the flight and then came in to land at around 12.40 local time.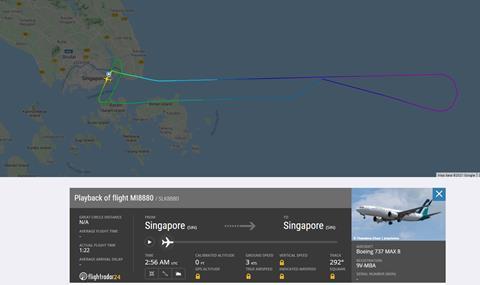 Responding to FlightGlobal's queries, SIA says: "This was a post-modification test flight, conducted after the installation of a communications antenna related to the aircraft's cabin retrofit programme."
9V-MBA was the first 737 Max 8 to be delivered to SilkAir, SIA's regional brand that is being integrated into mainline operations. Cirium fleets data indicates that the aircraft returned to Singapore from storage in Alice Springs in late-December.
SIA says there are now two 737 Max aircraft already back in Singapore, and it would be returning the rest "progressively".
The 737 Max is still banned from flying into Singapore, as well as in most parts of the Asia-Pacific region, following two fatal crashes that killed 346 people in 2018 and 2019. Other regions, including the US and European Union have already lifted the ban on 737 Max flights.
In late February, Australia was the first country in the region to lift the grounding on the 737 Max. SilkAir had operated flights from Singapore to Australia with the 737 Max before the grounding.
While SIA did not disclose a possible return to service timeline, it tells FlightGlobal: "We will continue to work with and be guided by our regulators on Boeing 737-8 MAX operations. The safety of our customers and staff is our top priority."
Singapore's civil aviation authority has not indicated when the type's grounding will be lifted, stating in January that its review of the aircraft's airworthiness was still ongoing.
"We will need to be assured that all aspects of the safety of Boeing 737 Max operations have been addressed. As part of this review, [we] will consider the US FAA's requirements and will determine if there is a need to impose additional requirements before we lift the suspension on Boeing 737 Max operations," it told FlightGlobal then.