Singapore Airlines (SIA) Group has posted the highest full-year net profit in its history, on the back of what it says were "proactive strategic initiatives" and "pre-emptive preparation" it undertook during the pandemic.
For the year to 31 March, SIA Group – comprising mainline operator SIA and low-cost unit Scoot – reported an operating profit of nearly S$2.7 billion ($2 billion), reversing the S$610 million loss posted in the previous financial year. It is the group's first profit in the three years since the Covid-19 pandemic began.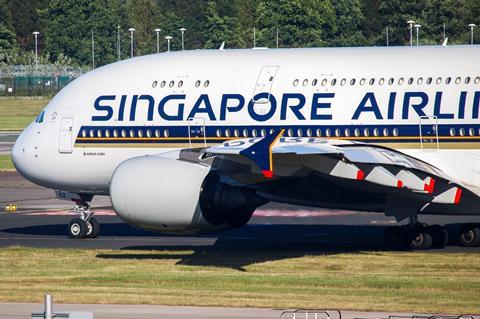 Both SIA and Scoot were profitable: the full-service operator was S$2.6 billion in the black, while Scoot was S$148 million in the black.
SIA Group posted a net profit of S$2.2 billion, reversing the S$962 million net loss in the year-ago period.
Group revenue more than doubled year on year to a record S$17.8 billion, led by a four-fold jump in passenger travel revenue.
Group traffic for the full year was up more than five-fold year on year, outpacing a 94% rise in capacity. Singapore fully swung open its borders in April 2022, a move SIA Group says led to a surge in travel demand.
Group expenses rose 83% year on year to S$15 billion, with net fuel costs leading the increase.
On cargo, SIA Group says the segment's financial performance "moderated" from the strong showing during the pandemic, adding that demand had declined on the impact of macro-economic headwinds.
Cargo revenue fell 17% year on year amid falling cargo loads and yield, though SIA Group says its full-year cargo revenue was still the second-highest in history. The group expects cargo demand to "remain soft" as challenges remain, and as inventory levels "
recalibrate" to pre-pandemic levels.
Still, it is bullish about near-term prospects on the passenger travel segment, noting that forward bookings "remain healthy" across all cabin classes, but were led by a strong uptick in China, Japan and South Korea bookings.
Says SIA Group: "The SIA Group's record financial performance…is a testament to its proactive strategic initiatives, pre-emptive preparation that was made when borders remained closed, and the hard work, dedication, and sacrifices of its employees."
The group points out that when Singapore's borders remained shut, it "acted swiftly" to shore up liquidity, a move it says "enabled [it] to take a long-term view and make several strategic decisions ahead of the recovery in global air recovery". This included keeping most of its fleet operational in the "early phases of recovery".
"The group built up a strong base network in a deliberate and calibrated manner, ensuring that SIA and Scoot were in position to ramp up ahead of any return in passenger traffic," it adds.