Singapore Airlines has raised S$2 billion ($1.5 billion) in sale-and-leaseback transactions involving 11 aircraft.
The Star Alliance carrier discloses that four different lessors — such as Dublin-based Aergo Capital and aircraft financing firm Altavair — were involved in the transactions, which covers seven Airbus A350-900s and four Boeing 787-10s.
Lessors involved in SIA's sale-and-leaseback transaction
Lease arranger
Aircraft

Aergo Capital Limited

1 Airbus A350-900
1 Boeing 787-10

Altavair

4 Airbus A350-900s

EastMarchant/Crianza Aviation

1 Airbus A350-900
2 Boeing 787-10s

Muzinich and Co. Limited

1 Airbus A350-900
1 Boeing 787-10
Cirium fleets data shows that the airline has a fleet of 55 A350s and 15 787s. SIA also has orders for 12 A350s, as well as eight 787s.
The sale-and-leasebacks are expected to boost SIA's war chest as it tackles the impact of the long-drawn coronavirus pandemic. Since 1 April 2020, the airline, which has been hard hit by a collapse in passenger travel demand amid the pandemic, has raised around S$15.4 billion in fresh liquidity.
This includes a S$8.8 billion rights issue, as well as a S$2 billion convertible bonds and notes issue.
SIA chief executive Goh Choon Phong says: "The additional liquidity from these sale-and-leaseback transactions reinforces our ability to navigate the impact of the Covid-19 pandemic from a position of strength. We will continue to respond nimbly to the evolving marketing conditions, and be ready to capture all possible growth opportunities as we recover from the crisis."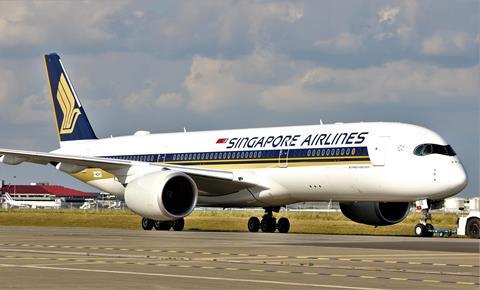 The airline, which is due to release its full-year results in May, adds that it "continues to have access" to more than S$2.1 billion in committed credit lines, and has the option to raise up to S$6.2 billion in additional mandatory convertible bonds before July this year.
The SIA Group narrowed its operating loss for the three months ended 31 December 2020, as a strong cargo performance helped offset a collapse in passenger revenue. The group was S$331 million in the red for the quarter, reversing the S$449 million operating profit it made the previous year.