Singapore is expanding its Vaccinated Travel Lane (VTL) programme, likely providing a boost to passenger traffic into the city state.
The moves, effective from 16 March, will see the Malaysia VTL extended from Kuala Lumpur to Penang, and the Indonesian VTL from Jakarta to Bali-Denpasar, says the Civil Aviation Authority of Singapore (CAAS).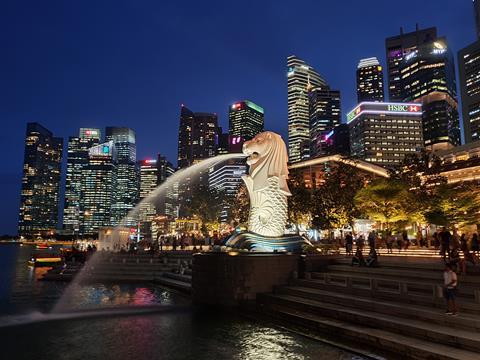 The VTL for India – a key market for the Singapore hub – will be extended beyond Chennai, Delhi, and Mumbai to include all Indian cities.
In addition, VTLs will be opened for Greece and Vietnam. CAAS notes that the Vietnam VTL is timed to coincide with Vietnam's plan to open to international tourism on 15 March.
Moreover, CAAS is broadening the travel history requirement for Europe to include the entire European Economic Area (EEA).
"With this, travellers who have been in any country in the EEA (including any transit stops) within the last seven consecutive days prior to departure to Singapore, may count his/her stay in the EEA country towards fulfilling the seven-day VTL travel history requirement," says CAAS.
The VTL scheme allows vaccinated travellers to visit Singapore without serving quarantine.
While the moves should help traffic, particularly from Europe, reciprocity remains an issue in Southeast Asia. The region is still mired in an array of coronavirus restrictions, and the Omicron variant of Covid-19 has given governments pause.
Malaysia and Singapore have a bilateral VTL arrangement for vaccinated passengers. Vaccinated Singapore travellers flying to Indonesia, however, are required to undergo five days of quarantine, including Polymerase Chain Reaction tests upon arrival and on day four.
Vietnam has announced that it will open for foreign tourists from 15 March, but has released no details of how the scheme will work for arriving passengers.
Singapore Airlines and other carriers will, nonetheless, welcome Singapore's further efforts to open up. SIA posted a net profit of S$85 million ($63 million) for the three months ended 31 December 2021, largely on the back of Singapore's VTL opening.
Singapore has established VTLs with 30 countries/regions, adds CAAS. It estimates that 456,000 VTL travellers have entered the city state since 8 September 2021, when the scheme commenced.