Singapore prime minister Lee Hsien Loong says his country will continue to look at ways to restore international air travel as coronavirus vaccination rates rise globally, including discussions with the USA.
Lee made the remarks in a joint press conference with US vice president Kamala Harris, who is in the region to visit Singapore and Vietnam.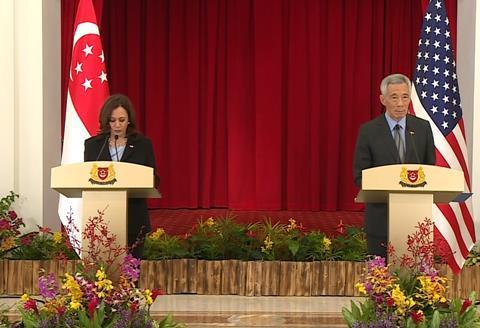 Lee commented on the city-state's travel opening plans in response to a question from a US journalist, who noted that quarantines for travellers from the USA have impacted US businesses, which have an extensive presence in the Southeast Asian nation.
"As we have brought [Covid-19] infections under control, it's easier for us to open up," says Lee. "We have been very tight on our borders for some time, because it was necessary, and we had to get our situation in Singapore secured through vaccinations and infection control."
Singapore is among the most vaccinated nations in the world, with 78% of the total population having received a full regimen of Covid-19 vaccine. This has allowed the country to look at quarantine free travel to some regions, providing testing and procedures are in place.
Lee notes that Singapore will begin allowing vaccinated travelers from Germany and Brunei to visit Singapore with quarantines.
"And we are talking about other countries as well, and it will depend on the vaccination programmes in those countries," he says.
In addition to looking at vaccination rates, Singapore will look at the prevalence of Covid-19 in a country. Other factors will include pre-departure testing, pre-departure vaccination certificates, and procedures for testing upon arrival, and quarantine protocols assuming an infection is detected.
"[It is] something which we have strongly in mind, because it's important for Singapore as a hub, to be able to reopen and to operate safely and for people to travel back and forth, to do business, and to keep ourselves connected with the world," says Lee. "And the US is one of the countries which we will be pursuing these conversations with."
During the press briefing, Lee also offered Singapore's Airbus A330 Multi-Role Tanker Transport aircraft in support of the airlift of refugees from Afghanistan.