Singapore has adjusted vaccination accreditation requirements for vaccinated travelers from the USA, following public feedback.
Under the country's Vaccinated Travel Lane (VTL) scheme, passengers vaccinated in the USA can now provide digital vaccination record from the state where they received their vaccination, or a physical vaccination document with a letter signed by the vaccination provider, says the Civil Aviation Authority of Singapore (CAAS).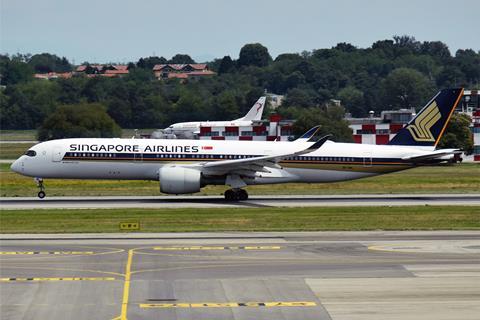 Previously, Singapore only accepted the Smart Health Card format for proof of vaccination in the USA. Only nine states and a select list of issuers can issue a Smart Health Card, although the scope of the format is growing.
The VTL scheme is integral to Singapore's efforts to re-boot air travel to the city state as the world emerges from the coronavirus pandemic. VTL passengers can skip quarantine when they arrive in Singapore.
Goh Choon Phong, chief executive of Singapore Airlines, commented on the VTL programme during an analysts' call on 12 November, following the carrier's interim results. He compared it to previous initiatives that failed to re-boot traffic, such as attempts to open air bubbles and other travel lane arrangements.
"None of them has really taken off in any significant manner, however they were very good initiatives to actually try all possibilities to increase and encourage travel," he says.
"VTL is really the one that has brought about a meaningful increase in traffic. And it shows how important it is to have a bilateral, quarantine-free travel arrangement for our travelers."
He says that bookings for travel from countries rise sharply as soon as VTLs become available.
Singapore reacted quickly to address the Smart Health Card issue when some Singaporeans vaccinated in the USA highlighted the challenges of obtaining a Smart Health Card.
The issue underlined the challenges airlines, governments, and passengers face as air travel starts picking up speed.
Singapore continues to tweak rules for arriving passenger. In one notable change, it now allows most in-bound passengers to take an antigen rapid test (ART) 48h before departure, whereas previously the requirement was for the more complicated and expensive polymerase chain reaction (PCR) test.
VTL services are available from Australia, Canada, Denmark, France, Germany, Italy, the Netherlands, South Korea, Spain, Switzerland, the United Kingdom, and the USA. VTL services from Malaysia will commence from 29 November, marking the reopening of what was, before Covid-19, one of the world's busiest air travel routes.