Ukrainian carrier SkyUp Airlines is aiming to develop US wet-lease and charter services, having secured authorisation to operate in US territory.
SkyUp commenced services in 2018 as a budget carrier, using Boeing 737s, but its operations have been badly disrupted by the Ukrainian conflict.
In a filing to the US Department of Transportation in April, the carrier stated that the conflict meant it was "no longer able to operate out of its home country", and that the closure of Ukrainian airspace would prevent civil aircraft services "for the foreseeable future".
The airline has adapted its business and concentrates on conducting charter flights from European cities, and wet-leasing aircraft to such carriers as Smartwings, Corendon Airlines and Tailwind Airlines.
Approval from US authorities, its filing stated, would provide SkyUp with "additional opportunities to bolster its current business plan".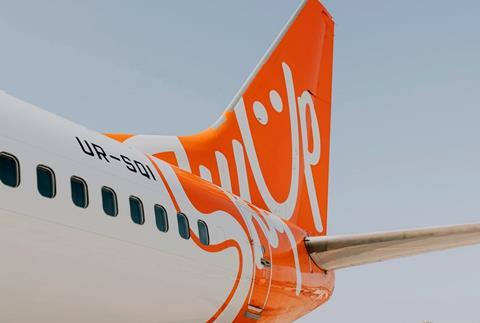 The Department of Transportation granted final clearance on 28 August.
Four 737-800s from the airline's fleet – registered UR-SQB, UR-SQC, UR-SQF and UR-SQP – have been authorised to fly in US airspace.
SkyUp says it has also obtained US FAA and Transportation Security Administration approval. "An important goal for the international development of the brand has been achieved," says SkyUp general director Dmytro Seroukhov.
While SkyUp requested that its financial data in its filing be kept confidential, the carrier has disclosed its ownership structure.
SkyUp is 52%-owned by a Ukrainian company, ACS Ukraine, while a UK firm, Global Travel Holding, holds the other 48%.
Ukrainian citizens Yuriy Alba and Oleksandr Alba jointly and equally own Global Travel Holding. They also each own 38% of ACS Ukraine, with the 24% balance held by Global Travel Holding.
According to the filing, Yuriy Alba also has a 24% indirect interest in the Maltese-based company SkyUp MT set up to operate commercial air services.