South Africa's public enterprises ministry is seeking to appeal a court decision last month requiring it to decide within 30 days on a proposed sale of low-cost carrier Mango Airlines.
The grounded South African Airways low-cost arm has been in a formal business rescue process since the end of July 2021.
Mango's administrator, business rescue practitioner Sipho Sono, last year identified a potential investor to acquire SAA's share in the airline .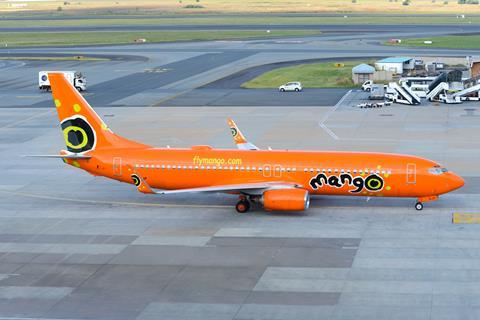 Sopho though has been at loggerheads with the ministry, which has been seeking more information from the investor amid previously raised – though subsequently dropped – concerns flagged by SAA. Frustrated by continued delays, Sopho, together with Mango and the NUMSA union, in February launched a legal bid to require the government to make a decision on the sale of the shares.
A court on 6 September gave the ministry a 30-day deadline for the approval decision – including "furnishing such reasons" for its conclusion. Failure to do so would mean approval for the share sale could be assumed.
Public enterprises minister Pravin Gordhan subsequently said he would not be "cowed" into a decision and was awaiting legal advice on the next step. The ministry has now applied for leave to appeal the court ruling.
"The intention of this application is to ensure that all aspects of Mango's business rescue process are transparent, legally sound and in the best interest of the South African public," the ministry says: "This is not a stalling tactic or an attempt to undermine the need to bring finality to Mango's business rescue process."
It reiterates that Gordhan is still awaiting a "detailed business plan" to assess the consortium's viability, "comprehensive" due diligence and confirmation that it complies with foreign ownership rules.
Mango, which SAA launched in 2006, was operating a fleet of eight leased aircraft and employed over 700 staff at the time of its grounding two years ago.