Indian airline traffic is starting to pick up, but concerns about a third wave of Covid-19 will weigh on a full recovery.
According to figures from India's Ministry of Civil Aviation, daily departing passengers for both domestic and international flights are back above the 100,000 mark for the first time since late April, when a second, deadlier wave of the coronavirus pandemic crushed air travel, pushing daily fliers below the 50,000 mark in mid-May.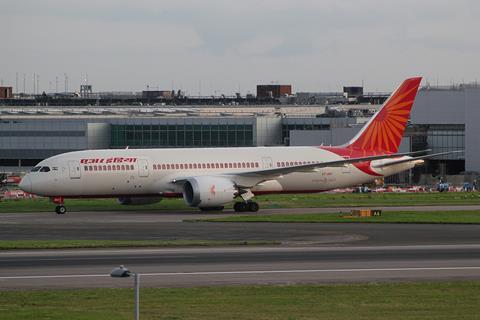 Prior to that, the market had enjoyed a rebound from May 2020, when air travel was allowed to resume after a nearly two month grounding amid India's first wave of Covid-19. In March, departures nearly hit 300,000 daily – before Covid-19, departures regularly clocked in above 400,000.
"This is not a robust recovery yet," says Ansuman Deb, analyst at ICICI Securities.
"Considering pre-Covid levels…we can say that there is a robust recovery only when the daily flier count again reaches 300,000 on a sustainable basis. This will need leisure travellers to return. If there is no Covid 3.0, we can expect that to happen during the seasonally strong fourth quarter. We are very confident demand will bounce back with every sign of normalisation."
FlightGlobal understands that load factors are trending around 60-70% in recent weeks. In addition, New Delhi has capped airline capacity at 50% of pre-pandemic levels – prior to India's second wave of coronavirus, airlines had been able to operate at the 80% level.
Industry observers state that capacity and fare caps exist mainly to protect weaker players in the market.
According to figures from the Directorate General of Civil Aviation, low-cost carrier IndiGo remained the country's dominant player in May, with 54.1% market share as measured by passengers carried. This is far greater than the combined market shares of rivals SpiceJet, Go Air, and AirAsia India, which together had just 32.4% for the month.
Other challenges include the closure of international markets, as well as the patchwork of testing requirements that complicate travel between Indian states. Travellers flying from Delhi to Mumbai, for example, need to take a Covid-19 test, while travellers flying in the reverse direction do not.
Ambit Capital analyst Varun Ginodia says that a recovery is starting, and that barring a third wave of Covid-19 the industry could enjoy a relatively good third quarter. The impact of any third wave on air travel will also depend on its intensity, he adds.
Figures from Johns Hopkins University show that India's second wave of Covid-19 is abating, with the country recording just below 50,000 cases daily, compared with over 350,000 daily cases in late April, at the peak of India's second wave.
Our World in Data, however, shows that just 4.2% of India's 1.4 billion people are fully vaccinated, with 327 million doses administered so far, and 6 million doses being given every day. By comparison the US – where a major air travel recovery is underway – has a fully vaccinated rate of 46.4%.