An Indian court has ordered low-cost carrier Spicejet be wound up over unpaid debts to MRO firm SR Technics, unless it pays a deposit of $5 million.
The Madras High Court on 6 December issued a stay of judgement for three weeks, on the condition that the deposit was handed over within two weeks.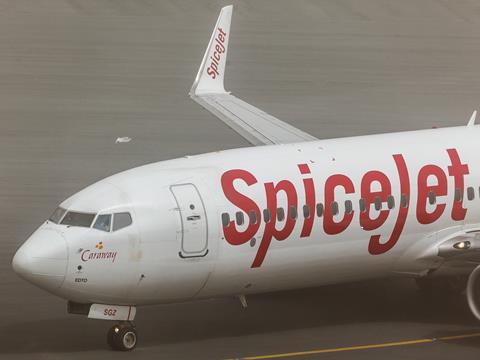 At the heart of the lawsuit is SpiceJet's "alleged inability" to make payment – more than $24 million – for MRO works performed by SR Technics.
Both companies signed an MRO contract in 2011, and entered into a supplemental agreement a year later to change the terms of that deal, local media reports indicate.
Credit Suisse, acting on behalf of the MRO provider, initiated legal action against the airline for failure to repay its debts under India's Companies Act of 1956.
SpiceJet opposed the suit, claiming that there was "no legally enforceable debt", as SR Technics did not possess regulatory approval for engine maintenance services.
The carrier alleges that there was "fraudulent misrepresentation" on the part of SR Technics, which would void the contract.
"Since the agreement falls and is void, Credit Suisse as an assignee does not and cannot have any claim against the company," adds SpiceJet.
While the judgement is stayed, SpiceJet says it is examining its legal options, and "shall initiate appropriate remedial steps, including preferring an appeal before the appellate jurisdiction within the time frame allowed by the Madras High Court".