Indian low-cost carrier SpiceJet swung to a net profit of Rs2 billion ($24 million) in the quarter ended 30 June, compared with a loss of Rs7.9 billion in the corresponding period a year earlier.
Operational revenue for the three-month period – the first quarter of its 2024 finacial year – however, fell 17% to Rs20.2 billion.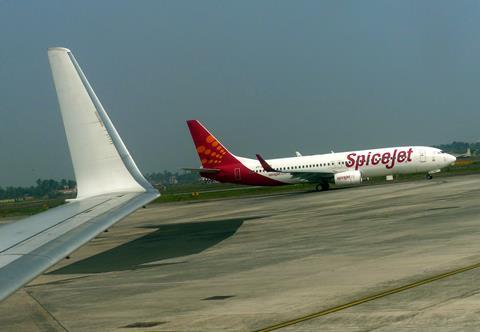 The fall in revenue was offset by a 37% drop in total expenses to Rs20.6 billion, which was largely due to the carrier's fuel bill halving to Rs7 billion. Airport charges, maintenance costs, and depreciation were also lower in the period.
While SpiceJet did not provide details about its lower costs and revenues, in early April it spun off its SpiceXpress freighter business, although it retains a 98% stake.
RASK rose 26% year on year owing to higher yields and load factors rising 4 percentage points to 90%.
"I am happy that despite facing multiple challenges, we have posted a [first-quarter profit]," says SpiceJet chairman and managing director Ajay Singh.
"Our team's relentless efforts and dedication and the continuous support from our valued customers have been pivotal in this success."
He reiterates that he recently injected Rs5 billion into the carrier, which will also allow it to access credit facilities worth $25 million under India's Emergency Credit Line Guarantee Scheme (ECLGS).
"This infusion will help bolster our efforts in reviving our grounded planes, for which we have been working tirelessly, strengthening our fleet and expanding our cargo operations," adds Singh.