Indian carrier SpiceJet is to receive an equity infusion from airline chief Ajay Singh, as it looks towards improving its long-term prospects.
Singh will invest Rs5 billion ($60 million) into the struggling carrier in return for fresh shares or convertible instruments, says the carrier.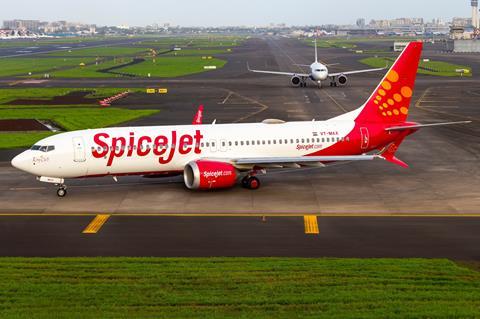 In addition to providing the carrier with liquidity, the infusion will also allow the airline to access credit facilities worth $25 million under India's Emergency Credit Line Guarantee Scheme (ECLGS).
"I am pleased to announce that I will infuse [Rs5 billion] into the company," says Singh.
"SpiceJet has a bright future and I am committed to helping it achieve its full potential. This investment will allow the airline to accelerate its growth plans and capture new opportunities in the market, grow its revenue and profits. We are committed to building a sustainable and profitable business, and this investment is a reflection of that commitment."
Indian government statistics show that SpiceJet had a domestic market share of just 5.4% in May, down from 5.8% a month earlier and 7.3% at the beginning of 2023.
The carrier adds that it is already using $50 million in ECLGS funds as well as internal cash to bring grounded aircraft back into service. The funs have already helped return two aircraft - a Boeing 737 and De Havilland Canada Dash-8 Q400 – to service, and work is underway on additional aircraft.
Cirium fleets data indicates that SpiceJet has 36 in-service aircraft with 26 aircraft in storage. Its in-service fleet comprises 16 737NGs, nine 737 Max 8s, nine Dash 8 Q400s, and a pair of A340-300s.
The 26 stored aircraft comprise 16 Dash 8 Q400s, nine 737NGs, and one 737 Max 8. The carrier also has orders for 144 737 Max.