Indian low-cost carrier SpiceJet says it has no plans to file for insolvency, as it continues to reactivate grounded aircraft.
"There is absolutely no question of filing for insolvency," says SpiceJet chairman and managing director Ajay Singh.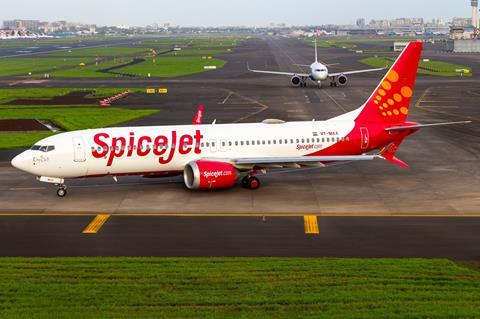 "Any rumour regarding the same is completely baseless. We are focused firmly on reviving our grounded fleet and getting more and more planes back into the air."
Singh adds that the company is using $50 million from the Indian government's Emergency Credit Line Guarantee Scheme as well as internal funds to reactivate grounded jets. On 3 May, SpiceJet announced that it would return 25 aircraft to the air.
Singh's remarks come amid continued troubles at Go First, which has reportedly secured bankruptcy protection, and which has extended its grounding until 19 May – Go First stopped flying in 2 May, citing challenges related to the serviceability of the Pratt & Whitney PW1000G engines that power its A320neos.
Go First's lessors have initiated a string of de-registration requests with India's aviation regulator that cover Airbus narrowbodies on lease with the beleaguered carrier.
Media reports suggest that IndiGo, and the Tata Group – owner of Air India, Vistara, Air India Express, and AirAsia India – are very interested in obtaining aircraft that are de-registered from Go First.
Singh appears to allude to the Go First situation in his remarks: "We have a great relationship with all our partners. Our lessors have supported us through the thick and thin and continue to do so and we are grateful for their support and confidence."
IndiGo's strategic heft as India's largest carriers, as well as Tata's ambitious plans for its stable of carriers, are seen as putting relentless pressure on India's smaller airlines, such as Go First and SpiceJet.
Cirium fleets data indicates that SpiceJet has 38 aircraft in service and 29 in storage. In service passenger aircraft comprise 13 737 Max 8s, 10 737-800s, three 737-700s, one 737-900ER, and nine De Havilland Canada Dash-8 Q400s. It also operates a pair of 737-700BDSF freighters.
Stored passenger aircraft comprise 18 Dash-8 Q400s, five 737-800s, two 737-900ERs, two 737-700s, and a single 737 Max 8. A single 737-700BDSF is also in storage.