Turkish Airlines will roll-out new brand positioning for its recently spun out low-cost operation AnadoluJet in the coming weeks and hopes to have the carrier operating in its own right before next summer.
The airline launched the Ankara-based low-cost unit in 2008, initially focused on domestic services in the country and operating out of airports including Istanbul's Sabiha Gokcen airport. AnadoluJet has since grown rapidly, launching international flights in 2020 and operating a fleet of 81 aircraft as of 30 June.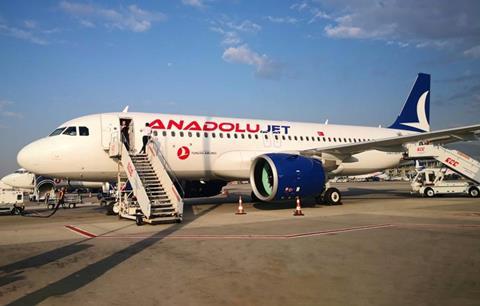 Turkish Airlines earlier this month completed the creation of a wholly-owned subsidiary to run the low-cost operation. The airline's second quarter results presentation references the AJet brand, which is also the name of the newly created subsidiary, and speaking on a results call on 10 August, Turkish Airlines chief financial officer Murat Seker said new branding would be announced shortly.
"We recently completed the incorporation and in the coming weeks we are going to announce it's new corporate identity and its new brand repositioning," he said.
"In the next few weeks we are going to apply to the civil aviation authority for the respective permits," he adds. "This is a very vast change. We are not establishing a low-cost carrier from scratch, we are trying to transform an existing body with about 80 aircraft and a significant amount of staff, to a new company.
"So there are a lot of technical details we are trying to solve. But our intention is … to have AnadoluJet operate on its own self before the summer of 2024."
AnadoluJet's fleet is set to reach 88 by the end of this year, which includes the introduction of 13 new generation aircraft this year. This forms part of a wider strategy to overhaul its fleet with Airbus A320neo and Boeing 737 Max jets in a bid to reduce its unit costs as it steps up its international operations.
Under Turkish Airlines strategic plan for the next decade, unveiled earlier this year, AnadoluJet is expected to move from the roughly equal split between domestic and international capacity to having around three-quarters of its capacity deployed on international routes by 2028 and to have more than doubled its fleet to 200 by 2033.