SriLankan Airlines expects passenger traffic in the upcoming year-end travel season to surpass pre-pandemic levels, amid a boom in tourism a year after the country plunged into economic turmoil.
Airline chairman Ashok Pathirage, who was speaking to FlightGlobal at the IATA AGM in Istanbul, says the airline intends to ramp up frequencies across the network, as the first of 10 new leased aircraft joins the fleet.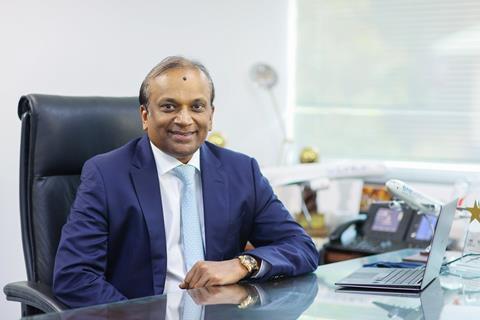 It has plans to increase frequency to London, from nine weekly flights to twice daily, while services to India – the airline's largest market – will be boosted from around 80 weekly flights currently to pre-pandemic frequencies of more than a 100.
Pathirage also says the airline hopes to restore its network in Mainland China, where he acknowledges that initially demand recovery was "not what we had expected".
However, he notes that supply chain challenges – including engine reliability issues – could impact its recovery efforts.
Much of the capacity ramp-up will come as it takes delivery of 10 leased aircraft in the next two to three months, says Pathirage. The Oneworld carrier secured leases for five Airbus A330s and A320s, to boost a fleet which had been cut amid ongoing restructuring efforts.
"There are so many opportunities for us, but right now with all the issues…like a reduced fleet size…and engine issues…have created pressure for us," Pathirage says.
As early as April, the airline had disclosed the grounding of five A320neo aircraft over a global engine shortage. SriLankan said the narrowbodies, which are powered by CFM International Leap-1A turbofans, were "currently awaiting engines after shop visits as the global industry faces a shortage of engines and long lead times for engine repairs for this type of aircraft due to a technical reliability issue."
Pathirage says the airline now has four jets grounded as a result of the engine issues. He says he "will continue to push the enginemakers" in meetings at the IATA AGM.
"We are working very hard on the engine issues, and hopefully with the new aircraft deliveries…hopefully they will be able to meet our expectations," he adds.