Taiwanese operator Starlux Airlines has begun trans-pacific flights to Los Angeles, as it eyes opportunities in the North America-Asia transit market.
On 26 April, flight JX2 – operated by an Airbus A350-900 (B-58503, MSN593) – departed Taipei slightly after 14:45 local time, arriving in Los Angeles about 11h later.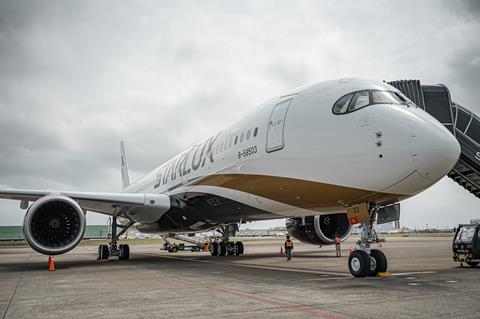 The airline will operate five flights a week between the two cities, with daily operations to follow in June. Starlux's A350s are configured to seat 306 passengers in four classes.
Los Angeles is the airline's first long-haul destination, and Starlux is keen to tap into opportunities in the transit market between other parts of Asia and North America, says airline chief Glenn Chai.
Following the launch of Los Angeles flights, Starlux said it intends to launch flights to its second North American city in San Francisco by the end of the year. More North American points are set to follow, Chai says, though he did not elaborate further.
Starlux is the third Taiwanese carrier to operate in the highly-competitive trans-pacific market. Compatriots China Airlines and EVA Air have extensive North American networks, with flights operated mostly with Boeing 777-300ERs. On Taipei-Los Angeles, EVA Air has thrice-daily flights, while China Airlines operates 11 weekly flights.
The airline on 26 April also announced it had signed a partnership agreement with Alaska Airlines, its first airline partner since launching services in 2020.
Under the "in-depth" partnership, Starlux passengers can connect to Alaska's domestic network out of Los Angeles, while Alaska passengers can connect to Starlux's Asian network. Other areas of the partnership include mileage accumulation and redemption, the carriers state.
According to Cirium fleets data, Starlux has a fleet of 20 in-service aircraft, comprising three A350-900s, four A330neos and 13 A321neos.