German start-up carrier Evia Aero believes it is launching into the market with a fleet of zero-emission aircraft at the optimum time, as it looks towards the start of operations in 2026.
Evia has so far placed orders for 25 examples of Eviation's Alice all-electric commuter aircraft, plus 10 conversions of the Britten-Norman BN-2 Islander with a new hydrogen fuel cell powertrain from Cranfield Aerospace Solutions.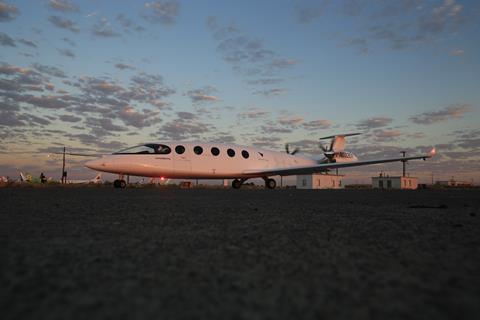 To arrive from 2026, the modified Islanders will be used for short-range operations serving island communities and ferrying in workers to support the offshore wind power industry, says chief executive Florian Kruse, a former chief commercial officer at Bremen airport in Germany.
"We will be the first commercial regional airline that's able to operate sustainable aircraft," he says.
He sees the BN-2's traditional role as an island-hopper only enhanced by the hydrogen-electric conversion: "It's a really interesting product for us."
Cranfield Aerospace believes it can obtain a supplemental type certificate for the modification by 2025 and Kruse says the near-term availability of the platform was also a selling point.
"I think sustainable aviation is a race – but you can't be in the market without an aircraft; you have to work with a manufacturer you can trust."
Deliveries of the Alice are due to follow later in the decade – certification is not expected before 2027 – and Evia will use the all-electric nine-seater to launch scheduled routes linking secondary or tertiary airports in Europe with double- or triple-daily flights.
So far, tentative agreements have been reached with airports including Bremen, Friedrichshafen, Munster and Weeze in Germany, Antwerp in Belgium, Groningen in the Netherlands, and Esbjerg in Denmark, but Kruse says the carrier is "talking to 22 European airports to bring the network to the right stage". While the focus has been on northern Europe, Kruse says potential locations also include sites in Austria, France and Scotland.
Crucially though, Evia will not just focus on airline operations: Kruse says it will also establish a group company to set up and run solar-powered charging stations and hydrogen-electrolyser facilities at airports.
In addition to enabling the carrier to charge or fuel its own aircraft, it will also sell the electricity or hydrogen produced to the wider market, helping to offset and manage costs.
Installation of the photo-voltaic plants will begin later this year or early next, says Kruse, as it works to finalise agreements with airport operators; these should come online from 2024, he adds.
While the start-up's aims are ambitious, Kruse believes it can be successful: "We are here in the right place, at the right time, with the right product."
The lack of a legacy fleet requiring conversion to zero-emission operations will also stand it in good stead, he argues. "We are starting with a clean-slate… that's why we will be successful," Kruse adds.
Around €60-70 million ($60-70 million) will be required to bring the carrier to operation, he estimates, with the majority of the investment on infrastructure while the aircraft will be acquired via dry lease.
Investors in the airline are from the sustainable power industry, he adds.

Dominic Perry is deputy editor of Flight International but also contributes extensively to flightglobal.com. Although specialising in the coverage of the helicopter industry, he has written on most topics in aerospace – be they commercial, defence or business aviation. In addition, there has been an increasing focus on the decarbonisation of the industry and zero-emission flight initiatives.