South African Airways (SAA) has flagged that it is now covering its operating costs after the country's finance ministry set aside R1 billion ($55 million) to deal with a portion of its historic debts.
In a budget unveiled yesterday, finance minister Enoch Godongwana included the allocation to "assist the carrier with the business rescue process".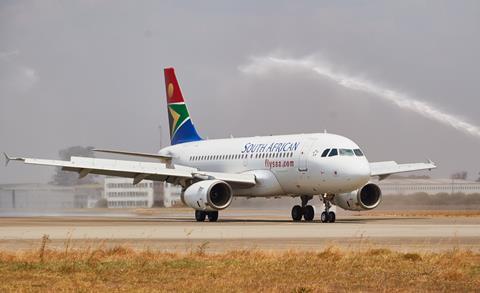 Following the move, SAA issued a statement saying the funds will be used to cover outstanding liabilities, specifically those relating to the final dividend payment to creditors and the refund of legacy unflown tickets to affected passengers. This dates back to when SAA was in formal restructuring between 2019 and 2021.
SAA chief executive John Lamola says: "SAA's operations have progressed positively since the airline emerged from business rescue, and as reported to parliament earlier this month, SAA is no longer technically insolvent, a milestone which we reached a year earlier than projected."
Airline chief financial officer Fikile Mhlontlo adds: "SAA has reached a point where we cover our operating costs. It must be emphasised that the allocation announced relates only to historical debt. These funds are not meant to bolster the business plan we are currently executing."
The allocation is part of R3.5 billion originally needed for SAA to settle all the debt that administrators had ring-fenced during its restructuring. "Due to the financial performance of SAA and the innovations of its management team, the total balance expected from the treasury has been reduced to R2.58 billion," says SAA.
"The airline will continue to negotiate with the treasury for the balance of the funds and co-operate with all the conditions that may accompany the flow of these funds."
Release of the funds to settle legacy debts is key to completing a deal with a private investor. While SAA resumed flights after an 18 month grounding during its restructuring, the deal with the Takatso Aviation consortium – which agreed to acquire 51% of SAA and provide R3 billion in capital - is not yet completed.
Local reports cite a Takatso statement saying the R1 billion from the state is not enough to settle these debts. "The unease Takatso Aviation funders have with signing off on the release of the funds we're mobilising for our R3 billion commitment to SAA, while the outstanding business rescue plan debt [persists], is an issue we have highlighted time and again," Tatkatso is quoted as saying.