Airports across Germany are gearing up for a day-long strike by public service workers that threatens to severely curtail flight operations.
Frankfurt airport, the country's busiest and a major hub for Lufthansa, said it expects to be "heavily disrupted throughout the day" on 17 February.
"Due to the strike by the Verdi trade union… regular airport operations cannot be guaranteed," operator Fraport writes on the airport's website on 15 February. "Passengers who want to start their journey in Frankfurt cannot catch their flight. Passengers are strongly advised to refrain from traveling to the airport."
About 1,000 flights are scheduled for the day, and the disruption will affect about 137,000 passengers, including those with connections in Frankfurt.
The Verdi trade union, which represents 2.5 million workers, called for the strike by public service, aviation security and ground handling service workers, as it negotiates with employers for a new contract.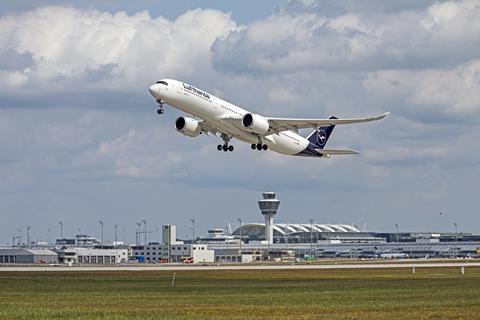 Germany's second-largest airport, Munich, meantime, says it will also be "massively affected" and will cancel all scheduled commercial flights during a 25h period beginning at midnight on 17 February.
"Due to the strike, Munich airport requested the Bavarian state ministry of housing, construction and transportation, as the highest aviation supervisory authority, to exempt the airport from the obligation to operate commercial flights that day. This request has been approved, thus there will be no scheduled passenger flights from 00:00 on Friday to 01:00 on Saturday," it adds.
About 700 scheduled take-offs and landings will be affected during that time frame. Exempted are "aid flights, flights for medical, technical and other emergencies", as well as private flights conducted in conjunction with the annual Munich Security Conference – usually attended by foreign policy leaders from dozens of countries – slated to take place in the southern German city this weekend.
Legacy carrier Lufthansa has told passengers that "a large number of Lufthansa and Lufthansa Group flights" at both Munich and Frankfurt are expected to be disrupted as a result of the strike.
Verdi says its workers will also strike at airports in Stuttgart, Hamburg, Dortmund, Hannover and Bremen.
It's the second time so far this year that a German airport will almost completely shut down due to strike action. On 25 January, Berlin-Brandenburg airport closed completely, affecting 300 flights and 35,000 passengers.