Delta Air Lines' net profits climbed 59% to over $1.1 billion in the third quarter, as revenues jumped 11% on continued strong demand.
Third-quarter revenues for the SkyTeam carrier, the first major airline to report figures for the period, rose from just under $14 billion to $15.5 billion for the three months to 30 September. That includes a 14% increase in passenger revenues.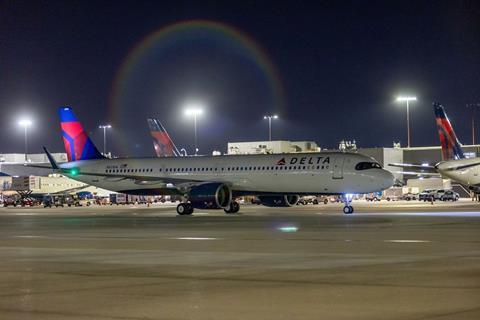 Delta president Glen Hauenstein says: "With this performance, we expect to deliver a record September quarter unit revenue premium to the industry, reflecting the strength of Delta's diverse revenue streams and continued brand momentum."
The strong revenue performance was achieved on a 17% increase in passenger traffic for the third quarter, which outpaced 16% capacity growth and drove a one percentage point rise in load factor to 88%. Costs climbed 8% over the same period.
Delta recorded a 36% increase in third-quarter operating profit to just under $2 billion.
The airline is guiding for fourth-quarter revenues 9-12% above 2022 levels.
Delta chief executive Ed Bastian says: "Our differentiated position supports our expectations for full-year revenue growth of 20% over 2022, and pre-tax earnings of over $5 billion, a near doubling over prior year earnings."
It has though narrowed downwards its full-year earnings-per-share gudiance to $6-6.25. It had previously guided for $6-7 earnings-per-share