All Nippon Airways parent company ANA Holdings saw its operating profit more than quadruple to Y130 billion ($865 million) for the six months ended 30 September owing to strong international and domestic passenger growth.
Revenue rose 26.7% to Y1 trillion and net profit rose nearly fivefold to Y93.2 billion, the company's financial results for the first half of its 2023 financial year disclose.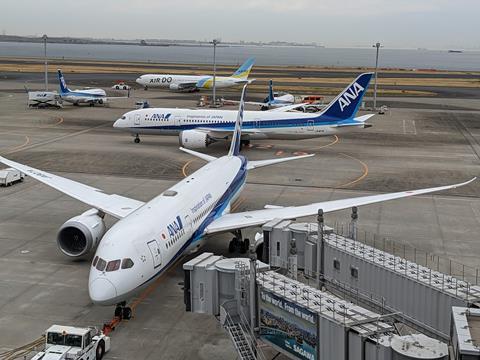 "Supported by the recovery in in-bound travel to Japan and leisure travel, demand for both international and domestic passenger travel was strong, and revenue was significantly higher than in the same period of the previous year," says ANA Holdings.
"While variable costs increased due to an expansion in the scale of operations, profitability improved significantly as a result of extensive cost-management initiatives."
Revenue from international services at the mainline carrier All Nippon Airways more than doubled to Y359 billion, as the number of international passengers carried in the six-month period doubled to 3.5 million, while ASKs rose 76.1% and RPKs 89.7%. Passenger load factors during the period rose 5.7 percentage points to 78.5%.
The company adds that it was proactive in securing transit traffic between North America and Asia, as well as leisure traffic originating from Japan.
Although domestic business travel has yet to fully recover from the coronavirus pandemic, ANA's domestic revenue rose 33% year on year to Y322.9 billion. Domestic passengers carried by ANA rose 34.6% to 20.4 million, as ASKs rose 15.1% and RPKs 35.1%. Passenger load factors were also up, climbing 10.2 percentage points o 69.2%.
Results at low-cost unit Peach Aviation were also good, with revenues rising 65% to Y67.3 billion, as the number of passengers carried rose 27.1% to 4.7 million. Peach's ASKs rose 11.3% and its RPKs 37.7%. The unit's load factors also improved sharply, rising 16.6 percentage points to 86.4%.
The strong passenger performance largely offset a significant weakening in ANA Cargo's business, where international revenue declined 59.2% to Y74.2 billion, as freight carried declined 19%.
"International cargo volume was down from the same period of the previous year, mainly due to the decline in demand from major industries including semiconductors, electronic equipment and automotive-related industries, while revenue continues to exceed pre-Covid levels," says ANA.
"ANA raised its efforts to secure profitability by assessing demand trends by route and day of the week and adjusting the operation of cargo aircraft as needed."
As of 30 September, the cash and cash equivalents of ANA Holdings stood at Y1.1 trillion, up 17% from 30 September 2022.
The carrier is leaving its full-year forecast for the 2023 financial year ended 31 March 2024 unchanged.
While noting that it will suffer an Y8 billion revenue reduction owing to inspections of the Pratt & Whitney PW1100G engines that power its A320neo-family jets, ANA Holdings says that passenger demand remains robust. It adds that it continues to keep a close eye on costs.
PW1100G INSPECTIONS SET FOR EARLY 2024
ANA will have to cut about 30 flights daily between 10 January and 30 March 2024 owing to the inspections required for the Pratt & Whitney PW1100G engines that power its Airbus A320neos and A321neos. This amounts to an overall reduction of 3.6%.
At the end of January 2024, ANA Holdings will announce the operational impact of the inspections when it releases its business plan.
ANA is the latest Asian operator to disclose the effect of the engine issues. Low-cost carrier Cebu Pacific, for instance, has revised downward its fleet growth projections due to the problem, while Air New Zealand has made "significant" cuts to its year-end schedules.