AirAsia Aviation carriers reported a significant uplift in passenger traffic for the third quarter of the year, led mainly by a rebound in international travel demand.
In the three months to 30 September – the first full quarter since regional travel markets fully reopened – AirAsia units in Malaysia, Thailand, Indonesia and the Philippines carried close to 10 million passengers, a considerable increase compared to the over 430,000 passengers flown in the same quarter last year.
Parent company Capital A adds that the figure is a 36% quarter-on-quarter increase, and stands at about 54% pre-pandemic levels.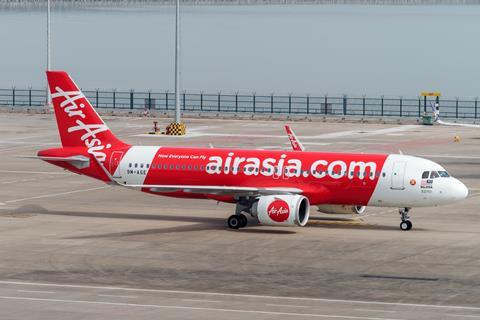 Meanwhile, total capacity stood at about 44% pre-pandemic levels, notes Capital A in a 26 October statement.
AirAsia Malaysia carried 4.8 million passengers in the quarter, a significant increase against 2021's lower base of just 156,000 passengers. Compared to the second quarter of the year, the figure is a 25% rise.
The Kuala Lumpur-based carrier also ramped up capacity, with ASKs increasing about 28% quarter on quarter.
It has seen healthy load factors across its domestic and international networks – averaging around 86% — with the airline reporting a 95% load factor during the quarter for its Kuala Lumpur-Singapore route.
AirAsia's Indonesian unit carried over 1 million passengers, about 49% higher quarter on quarter. This also compares to the 15,000 passengers carried in the same period last year, when Indonesia was still under strict movement control.
Capital A also notes that international traffic provided a strong boost to the carrier's traffic, with international seats accounting for half the seats sold during the quarter.
Capacity rose about 51% against the previous quarter, while RPKs grew 62%. Both were significantly higher on a year on year basis.
As for Philippines AirAsia, it saw quarterly passenger numbers rise six-fold year on year to 1.2 million. Against the previous quarter, passenger numbers grew about 20%.
Capacity grew 56%, while traffic rose about 46% against previous quarter. Compared to 2021, the airline saw an increase of more than five-fold in capacity, while traffic rose six-fold.
Thai AirAsia carried 2.8 million passengers in the quarter, 34 times higher year on year. Against the previous quarter, the figure is an increase of around 64%.
The airline saw capacity grow 58% quarter on quarter, with RPKs increasing about 82%, as it attributes the rise to "ongoing travel momentum" on both domestic and international networks.