Turkish carrier Pegasus Airlines narrowed its net loss in the first quarter to €22 million ($24 million) on record revenues for the period.
The first-quarter performance – usually a loss-making period for the airline – marked an improvement on the €60 million Pegasus lost in the same three months last year and the €42 million loss reported in pre-pandemic 2019.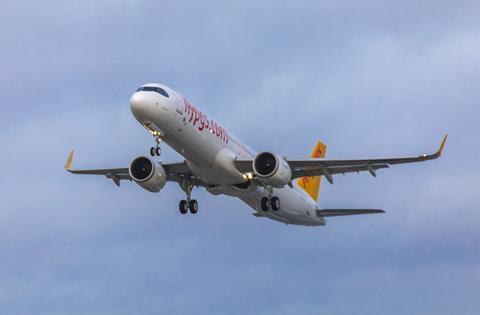 Pegasus revenues of €442 million jumped 64% compared with last year and by 52% against the first quarter of 2019. Notably, ancillary revenues climbed even faster, rising 68% to €156 million.
The revenue growth reflects the continued strong yield environment, up by more than a quarter year on year. While capacity is 16% above pre-pandemic levels, the 6.3 million passengers Pegasus flew in the first quarter of 2023 remains below the 6.9 million it carried in the same period of 2019.
Pegasus Airlines says: "The booking curve build-up is picking up pace, confirming our expectation for a robust international demand in the upcoming peak summer period." The airline is maintaining its aim to lift capacity in terms of ASKs by a fifth this year compared with 2022.
The airline ended the quarter with 99 aircraft in its fleet, the majority of which are Airbus A320/A321neos. Pegasus aims to take 13 more A321neos this year, phasing out nine aircraft – a mix of current generation Airbus and Boeing narrowbodies – to have a fleet of 103 aircraft.
Notably all the carrier's remaining aircraft deliveries are for the larger A321neo, meaning its average seat count will reach 215 by 2025, compared with 191 in 2021.