AirAsia Aviation has blamed supply chain woes for delays in restorying its full fleet to service, as it reiterates its commitment to long-term fleet growth.
In presentation slides following the release of parent company Capital A's second-quarter earnings, the low-cost airline group says it aims to reactivate its full fleet of 200 Airbus A320s by the end the year.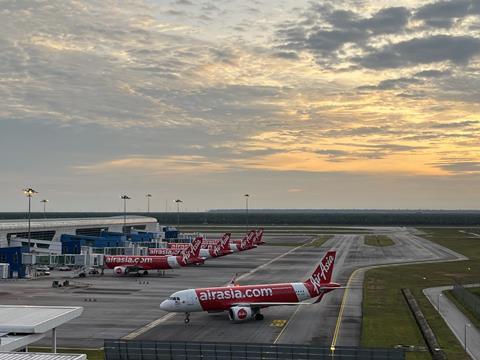 The revised forecast compares to earlier estimates of a full fleet recovery by the July-September quarter.
AirAsia Aviation blames the "shortage of aircraft components and cabin furnishings in the market" for the delay in bringing stored aircraft back to service. "Aging aircraft require extensive maintenance services such as seat removal and comprehensive cabin interior overhauls," it adds.
AirAsia Aviation, which has units in Malaysia, Indonesia, Thailand and the Philippines, has seen close to 170 aircraft return to service, of which 20 are in maintenance. By end-September, the group expects to have reactivated 180 aircraft.
It adds: "Fleet reactivation alone is not enough to sustain our growth trajectory. After reactivating our fleet, we need to grow the fleet further." The group has over 300 A321neos on order, the first deliveries of which will start in 2024 and continue over the subsequent 12 years.
AirAsia will also lease nine narrowbodies in 2024 and another six in 2025.
AIRASIA X OUTLINES FLEET STRATEGY
Meanwhile, sister carrier AirAsia X reiterated plans for fleet growth, with deliveries of its new aircraft to start in 2026. The medium-haul, low-cost operator has 15 A330neos and 20 A321XLRs on order.
The first four A330neos are expected to enter the fleet from 2026 and the A321XLRs will join the fleet a year later.
Its immediate priority is reactivating all remaining aircraft, adding that it will "continue working with lessors and [the] manufacturer to ensure fleet is secure in the long term".
AirAsia X expects to have 14 in-service A330-300s by end-September, growing to 17 examples by the end of the year. In the lead-up to its new aircraft delivery in 2026, AirAsia X says it plans to add one aircraft each year in 2024 and 2025.
By 2028, AirAsia X says its current fleet will be replaced entirely by new aircraft.