Sustainable aviation fuel accounted for only around 0.05% of total jet fuel consumption in Europe before Covid-19 hit, according to Eurocontrol, highlighting the challenge in raising its use to the air traffic manager's goal of 10% by 2030.
Hitting that level would cut the CO2 emissions of all departing flights by around 8%, Eurocontrol says as part of a data update on regulation published 8 June, with SAF delivering up to 80% of net savings on carbon emissions.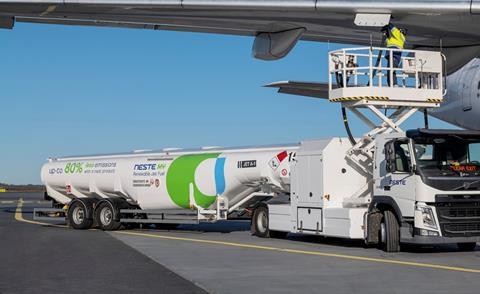 "Under its ReFuelEU Aviation initiative, the European Commission is considering a SAF mandate that would require jet fuel suppliers at EU airports to blend an increasing percentage of SAF into their fuel from 2025," it notes.
Eurocontrol highlights that in addition to the need to increase the uptake of SAF, the logistics of transporting the fuel to airports is considerable.
In 2019, just 39 of 1,657 EU airports accounted for 80% of the volume of conventional fuel used by departing aircraft in the bloc.
"Therefore, instead of distributing this SAF evenly over all 1,657 EU airports, it would be more efficient to concentrate on the fuel supply chain at these 39 airports," notes Eurocontrol. "Providing a 12.5% SAF blend to these airports would achieve the same 8% reduction in CO2 emissions from flights departing the EU."
Currently only seven of these 39 airports – Frankfurt, Paris CDG, Amsterdam, Helsinki, Stockholm Arlanda, Hamburg and Munich – have begun supplying the fuel type.
SAF is more than twice as expensive as conventional jet fuel, and its use will likely involve a significant increase in costs for airlines.
Airlines may be tempted to engage in economic tankering – whereby aircraft deliberately carry excess fuel in order to avoid higher prices at their destination – a practice that could negate the carbon benefits of SAF.
Eurocontrol also warns that an increase in costs from SAF "would also reduce the competitiveness of airlines operating from the EU. It would therefore be necessary to ensure rebalancing measures."
Many airlines in Europe have committed to greatly increasing their use of SAF over the coming years. Ryanair is planning to use 12.5% SAF by 2030 and IAG targets 10% by the same point.
Air France-KLM, Lufthansa and others have said the use of SAF will enable them to transition to cleaner technologies that are not yet available.
However, as cited by Eurocontrol, the issue of securing adequate SAF supplies at prices that are affordable for airlines is considerable.
Speaking as part of an industry sustainability debate in April, Shell Aviation president Anna Mascolo pointed out that, for example, "even if all SAF projects materialise, that would create 400 million tonnes of SAF, and that's 1% of what is needed".
Success in bringing down the cost of SAF will require a range of technologies, a strong regulatory environment and fiscal incentives from governments, she noted.