TAP Air Portugal has reported a profitable third quarter during which its revenues were significantly above pre-pandemic levels, as it "accelerated" its recovery from the Covid-19 downturn.
The results were announced on 24 October, a few weeks after Portugal's Council of Ministers approved a decree to formally launch the re-privatisation of TAP, under which it plans to sell at least a 51% stake.
The Star Alliance carrier's operating income reached €1.26 billion (€1.34 billion) in the seasonally strong July-September quarter, a rise of 13% year on year and 21% up on the same period in 2019. That came with capacity still 5% down on 2019, reflecting the strength of yields during the period.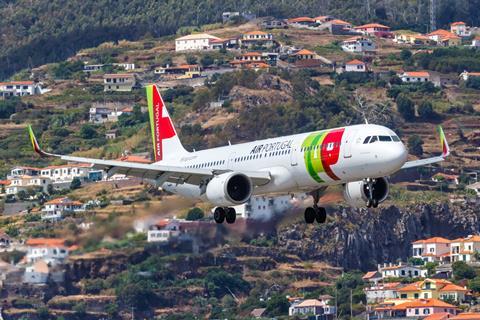 It recorded a third-quarter operating profit of €266 million and a net profit of €181 million – both up significantly from 2022.
TAP says its performance so far this year reflects its "adeptness at navigating through challenging times in today's aviation landscape".
In line with the wider industry, the contribution from cargo was weaker year on year, with revenues falling 40% to €38 million amid what it describes as a "normalisation" of the market after Covid-era highs.
Supply-chain issues weighed on TAP's maintenance division, with its revenue falling by around a third year on year to €33 million.
TAP describes its liquidity position of €769 million as "robust".
"Q3 results are encouraging and validate the organisational focus of delivering a good summer to our passengers," says TAP chief executive Luis Rodrigues.
"We are moving headway to step up the robustness of our operations and the quality of our passenger service, accelerating the recovery from two difficult previous years."
TAP says it had 98 aircraft in its fleet as of 30 September.
It does not offer commentary on the outlook.