Thai AirAsia has further extended its suspension of all scheduled domestic flight operations to end August and put all employees on no-pay leave.
The low-cost carrier had initially suspended domestic flights from 12 to 31 July, and later extended it to 8 August, to comply with the Thai government's Covid-19 movement restrictions.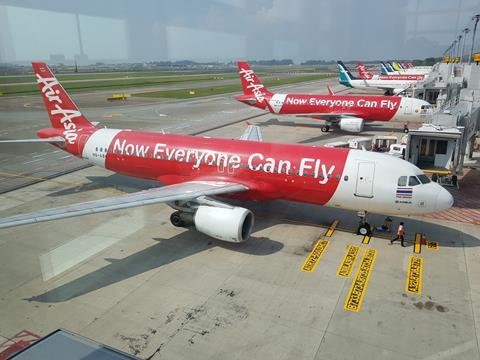 The Civil Aviation Authority of Thailand has from 21 July suspended all flights to and from "dark red zones", which was expanded on 1 August to include Bangkok and 28 other provinces.
"Despite our best efforts at mitigating these short-term effects, the situation has taken a turn for the worse and became more severe than we initially expected," Thai AirAsia tells Cirium.
The airline is putting all staff on leave without pay in August. Payment of July salaries will be deferred, in part or whole, to September.
Thai AirAsia says it is "closely monitoring the situation and expects it will improve by September".
"Salary payment to all employees shall be regularised once the funds become available and our operations reinstated," it adds.
The airline says that Thailand's worsening Covid-19 pandemic situation has led to more stringent measures and restrictions on travel, which have "directly affected the airline business operations, especially in terms of liquidity and capital management of the company".
"The company has been trying its level best to manage the situation, including by finding various sources of funds to improve liquidity."
In July, the airline, together with six other Thai airlines, said they had petitioned the Thai government for Bt5 billion ($152 million) in low-interest loans, the latest in multiple attempts since April 2020, when they sought about Bt24 billion.