Thai AirAsia X has made further progress with lessors on restructuring lease agreements, after signing its first lease restructuring back in March.
"They have actually closed documentation entirely with three lessors, and they have four lessors that they are just at various points in the documentation process," Ron Brickerd, managing director at Thayaan Aviation Consultants Group, tells Cirium, declining to name the lessors.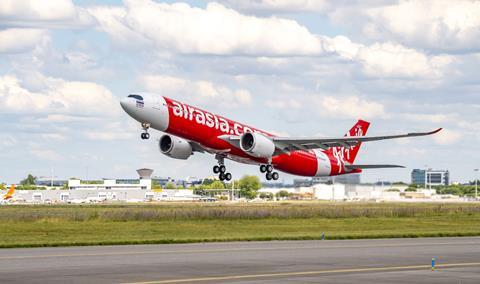 Brickerd, who has been advising the airline on its restructuring since December, adds that Thai AirAsia X is still in negotiations with two lessors, which he declines to name, but says that negotiations with this pair are "well underway".
For those four lessors in the documentation stage, this could include preparing a brand-new lease, amending an existing lease, and payment deferrals, he says.
Cirium fleets data indicates that Thai AirAsia X's lessors are AerCap, Avolon, BOC Aviation, Carlyle Aviation Partners, CDB Aviation, DAE Capital, Deucalion Aviation, Macquarie AirFinance, Seraph Aviation Management and Zephyrus Aviation Capital. The majority of its fleet are A330-300s, but it also leases two new-technology A330-900neos from Avolon.
Thai AirAsia X's first agreement in March was for an Airbus A330-300 owned by Japan's Yamasa Sangyo and managed by Seraph Aviation, which before its rebranding in early October was known as Stellwagen Group.
"We worked around a framework of trying to get a reasonable, fair deal on both sides and to try to get to a profile that would allow the airline to actually function more efficiently," Brickerd explains, talking about the Seraph/Yamasa deal as well as the others that have closed.
"We didn't have a set way of how each lease would look, it just had to fit the airline's overall scheme of what it would do to the cost structure and future operations."
While two lessors have yet to reach agreements, Brickerd says this is mostly down to "manpower availability", given that both sides are still mainly working from home due to Covid-19 restrictions yet still have hundreds of pages of documentation to sift through.
"It's not like you can sit at a table and do a readthrough on a lease in two days with your staff," he says.
Thailand reported 3,174 confirmed cases of Covid-19 on 23 June, according to World Health Organization data.
"And then, of course, due to the complexity of having planes parked, etc., that interferes with your engineering department, and financial and legal teams, and who is available to do a read on what day," Brickerd says, adding: "It's not an unacceptable-terms-type situation, it's just getting it through all the hoops."
Conversely, some lessors with smaller exposures were keen to get things done and dusted quicker.
"Some of the lessors were more eager to just pull the Band-Aid off and be done with it and move on to a bigger problem than one aircraft," Brickerd says.
"If you only had small exposure on a single A330, you might be able to strike a quicker agreement that is slightly less favourable to the lessor than if you were dealing with 10 to 15 airplanes with larger exposures and needed to discuss every single detail all over again."
He adds: "But the advantage is both parties can move forward to other pressing matters."
Brickerd hopes Thai AirAsia X can take advantage of a gradual reopening of Thailand's tourism sector. On 22 June, the country's cabinet approved a "sandbox" tourism scheme in Phuket that would see the island reopen to fully vaccinated tourists on 1 July.
That scheme could be extended to the whole country within 120 days from 16 June, a "calculated risk" which would contribute towards "reducing the enormous suffering of people who have lost their ability to earn an income", according to a nationally televised speech by prime minister Prayut Chan-o-cha on 16 June, cited in a same-day Reuters article.
Thai AirAsia X has been operating cargo flights and intends to continue trying to grow that market, according to Brickerd, but it wants to increase passenger flights once the country reopens.
"They are hoping that this Phuket sandbox and the new announcements from the government about the 120-day vaccinated tourism plan actually proceed," he says.
"They are starting to work against those timelines."