Thai Airways International nearly doubled its operating profit for the third quarter, amid an uptick in tourism arrivals, and despite concerns over economic uncertainty.
For the three months ended 30 September, the Bangkok-based carrier reported an operating profit of Bt7.7 billion ($212 million), close to twice the amount it posted in the year-ago period.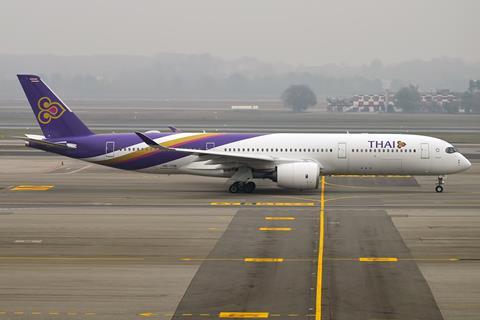 Revenue for the quarter rose 12.6% year on year to Bt37 billion, with an increase in passenger travel revenue offsetting a dip in cargo revenue.
Thai Airways carried close to 3.3 million passengers in the quarter, a 22% increase year on year, with capacity growing 21.5%.
The airline attributes the growth to a return of tourists, especially from Mainland China and India. Citing Thai tourism agency figures, Thai says there were about 7.1 million tourist arrivals in the quarter, nearly double the number in the year-ago period and about 73% of pre-pandemic levels. Chinese tourist arrivals have steadily increased since Beijing eased its onerous zero-Covid restrictions earlier this year.
Meanwhile, the airline saw a 1.2% increase in costs to Bt29.2 billion, led by a rise in non-fuel expenses.
Thai Airways swung to a net profit in the quarter, at Bt1.5 billion versus the Bt4.8 billion net loss in the year-ago period.
The airline ended the quarter with 68 aircraft in operation, having inducted one A350-900 to boost operations into Mainland China. Thai Airways is also in the process of merging its subsidiary Thai Smile Airways into mainline operations, and will transfer all 20 A320s into its fleet by the first quarter of 2024.
While the airline expects travel demand to hold strong through the final quarter of the year, it warns of "more intense" competition, as other airlines restore capacity. The ongoing Israel-Gaza conflict has also led to a "slowdown" in forward bookings to Europe and Istanbul, which it will launch in December.
Thai Airways also flagged macroeconomic concerns, such as inflation, among other challenges in the near term. To offset this, the airline will continue to manage its costs and drive up its revenue, it says.