Thai Airways International's rehabilitation planners are expected to submit a plan on 2 March to Thailand's Central Bankruptcy Court outlining how they propose the airline should be restructured.
Thai's acting president Chansin Treenuchagron is expected to hold a briefing at 14:00 (Bangkok time) on 2 March. Cirium has contacted Thai Airways for details.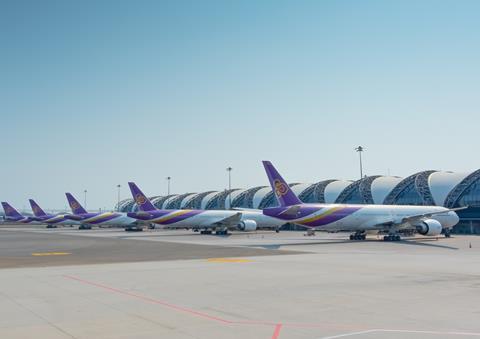 The beleaguered flag carrier's planners – a group of six people and EY Corporate Advisory Services – had originally been due to submit this plan in January, but the airline opted to apply for two one-month extensions, pushing the deadline first to February and then later to today.
Citing anonymous sources, Bloomberg reported on 1 March that the airline will seek a capital infusion of as much as Bt50 billion ($1.65 billion) under its restructuring plan, raised through equity, loans or convertible securities.
The submission of the rehabilitation plan, if made today, would mark a significant next-step in Thai's restructuring process.
It has taken almost a year to get to this point, and while the carrier's struggles are far from over, a well-thought-out and well-written plan could set it on track to emerge stronger as the airline market recovers from the shock of Covid-19.
FINANCIAL TROUBLES
Thai Airways had been in financial difficulties even before the pandemic. In the year preceding the pandemic, its losses widened by Bt3.4 billion to Bt12.4 billion in 2019, as revenues fell despite increased passenger numbers.
At the end of March, it grounded 69 of 82 aircraft in its fleet and said it was looking for ways to shore up liquidity as it battled the then-recently begun Covid-19 crisis.
At a 5 May media briefing, Thailand's prime minister Prayuth Chan-o-cha said it was the government's "last chance to manage the issue so it does not get worse". At that time, the Thai government owned a controlling 51% stake in Thai Airways.
Weeks later, the Thai government gave its approval for the airline to restructure under supervision of the country's Central Bankruptcy Court in Bangkok. The government then on 22 May cut its shareholdings from 51% to 47.9% by disposing of its Thai Airways shares to a fund under the authority of Thailand's finance ministry.
This would allow the carrier to put "more of an emphasis on the market and market demands, and less of an emphasis on politics and political considerations," John Frangos, a partner at law firm Tilleke & Gibbins in Bangkok, told Cirium at the time.
On 27 May, the Central Bankruptcy Court accepted the airline's application for business rehabilitation, although it would still need several months to grant approval. On the same date, an automatic "stay" on creditor claims came into effect. This restricted the ability of creditors to enforce any security or start any other litigation proceedings against the airline. It also imposed a moratorium on creditors' rights, including – crucially for lessors – the right to pursue action to repossess property that is the subject of lease or hire purchase.
Meanwhile the airline, which would need to cut its fleet and lower its lease obligations as part of its restructuring, began negotiations with lessors. It requested deferrals on lease rental payments of up to 12 months, although faced push-back from lessors on that length.
In August, Thai and its subsidiaries reported significant losses in the first half of 2020, with the greatest hit to operating profits taken in the second quarter. Operating losses more than doubled to Bt18.3 billion compared with Bt7.94 billion in the first half of 2019.
Fortunately for Thai, its rehabilitation petition was approved by the Central Bankruptcy Court in September.
KEEPING A CLOSE EYE
The approval followed three days of court hearings in August during which criticism was levelled against one of the rehabilitation planners, EY Corporate Advisory Services. However, creditors gradually withdrew their objections to the restructuring under business rehabilitation.
With that approval under its belt, Thai held a virtual meeting with lessors the following month on 21 October. During that meeting, it outlined a broad plan that would involve reductions in both its total fleet size and the number of aircraft types it operates, plus haircuts for lessors.
It also specified that it hoped to operate 40-60 aircraft in 2021.
Following that meeting, it issued requests for proposals (RFPs) to lessors with a 4 November deadline, giving lessors less than two weeks to present their best offers to the airline.
Most lessors met the deadline, although several told Cirium they did so only reluctantly and criticised the way Thai handled the process.
Also in November, Thai put its entire Boeing 747 and 777-200/300 fleets up for sale.
The airline sank deeper into the red and third-quarter operating losses came in at Bt15.6 billion, more than five times Bt2.84 billion loss reported in the year-ago period.
Shortly after the initial 2 January deadline to submit the rehabilitation plan, acting president Treenuchagron, who is also one of the rehabilitation planners, said on 5 January that the carrier was working "diligently" to submit the plan "within the specified timeframe", adding that the plan involves "many creditors and complex issues that require consultation from professional advisers and experts".
Despite that, the airline later requested an additional extension to 2 March. Under Thai law, it is allowed two one-month extensions to the submission deadline.
In February, lessors with exposure to Thai told Cirium they had reached agreements with the carrier on the future of their aircraft, although binding agreements will not come into force until the airline exits bankruptcy protection. At least one lessor told Cirium his agreement included a caveat that it could walk away if unsatisfied with Thai's rehabilitation plan.
Also that month, Thai started issuing RFPs for the sale of CFM International CFM56 engines, as well as 747-400s.
If Thai Airways' rehabilitation plan is submitted successfully today, it will still take at least several weeks for creditors to study it and vote on it. The airline estimates this process will take around six weeks, although observers have said this could take longer should creditors raise objections.
There is no guarantee that Thai's plan will be accepted by creditors and it could be rejected.
All stakeholders, including lessors, will be keeping a close eye on any announcements or communications from the airline in the coming days.
This analysis is written by Michael Allen of Cirium's Asia reporting team.