Thai Airways narrowed its half-yearly operating loss — as cost-cutting measures appear to bear some fruit.
For the six months ended 30 June, revenue plunged 75% to Bt10.2 billion, led by a steep decline — nearly 94% year on year — in passenger revenue. Thai notes that passenger traffic during the period plummeted 95% year on year, with regular flights suspended since the middle of 2020 during the pandemic.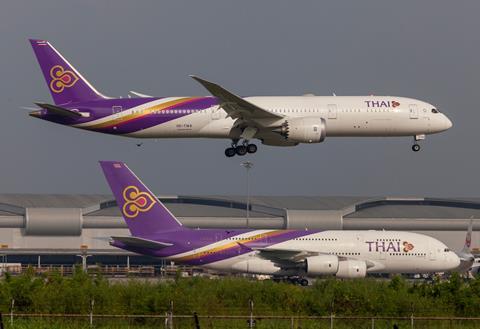 During the period, Thai and its subsidiaries carried around 720,000 passengers, a 84% decline year on year. Capacity fell 81% while traffic plunged 95%.
Freight revenue fell 24%, as a lack of scheduled passenger flights drastically reduced available bellyhold capacity.
Costs for the half-year fell 58% year on year to Bt24.6 billion, with fuel costs falling the sharpest due to a lack of flying activity.
Non-fuel expenses declined nearly 54%, led by cuts in variable costs including flight service, crew, as well as maintenance expenses.
The carrier swung to a net profit of Bt11.1 billion, helped by a reversal of impairment loss on 34 aircraft. Thai discloses that aircraft impairmenr losses were cut due to "the reduction in the value of the new right of use by the conditions in the letter of intent resulting in reverse the impairment loss".
Thai ended the period with Bt6.7 billion in cash and cash equivalents, lower than the Bt8.7 billion in began the year with.
Still, Thai's auditors have withheld opinion on the financial results, stating that there was "uncertainty" about its ability to remain as a going concern.
Addressing these concerns, Thai's chief financial officer Chai Eamsiri says the auditors' inability to express an opinion on its results were "not due to the limited scope by the management, or the inability to find evidence to audit the financial statements".
"However, it is resulted from the impact on the uncertainty of the [pandemic] situation, which is the regular process of lawful rehabilitation for having business opportunities to continue…in the long-term," he adds.
Thai is in the midst of a business rehabilitation process. In mid-June, it received court approval for its restructuring plan at a 15 June hearing, clearing the final hurdle before implementation of the proposals.