Thai Airways has reported its worst-ever full-year net loss – dragged down by significant one-time costs – as it faces possible delisting from the Stock Exchange of Thailand (SET) because of negative equity.
For the year ended 31 December, Thai, which is in the middle of debt restructuring, posted a net loss of Bt141 billion ($4.69 billion), widening the Bt12 billion net loss it reported in 2019.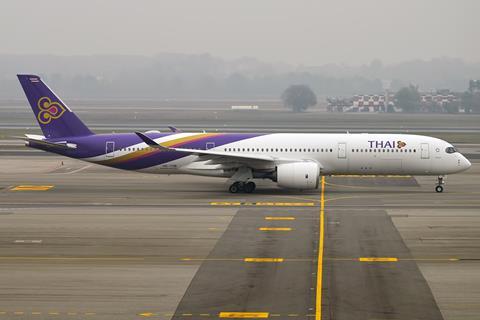 The embattled carrier took more than Bt92 billion in one-time charges during the year – including racking up aircraft impairment costs to the tune of more than Bt82 billion.
At the operational level, Thai was Bt48 billion in the red. This compares to the Bt12.4 billion operational loss it reported in 2019.
Revenue plummeted 73.8% year on year to Bt48.3 billion, led mainly by a collapse in passenger revenue amid pandemic-driven travel restrictions globally.
Expenses fell 51% to Bt96 billion, despite reduced flying activity, as the carrier saw net finance costs — including interest from operating lease agreements — nearly double year on year.
In 2020, Thai carried just 5.9 million passengers, a 76% drop year on year. Full-year traffic plunged 79%, and capacity fell 74%.
Thai's shareholder equity fell to negative Bt127 billion, which prompted the SET to warn that the flag carrier could be delisted. The SET is expected to come to a decision in seven business days, or by 7 March.
In its outlook, Thai notes that vaccines will go some way towards helping the industry recover, though it notes that its financial performance for the first half of 2021 will continue to remain "negative".
Thai's staggering losses come less than a week before the carrier was due to submit its business rehabilitation plan to Thailand's Central Bankruptcy Court.
In late-January, the court allowed a final submission deadline extension to 2 March. Thai said then that it needed an extension – the second to be granted – because it needed "to put together the comments and suggestions from several groups of creditors on the principle of the draft rehabilitation plan, in order to prepare a complete and comprehensive rehabilitation plan to ensure that the rehabilitation plan will receive the approval of the creditors' meeting".