Thai Airways International and Bangkok Airways returned to profitability in the first quarter of the year amid strong growth in tourist arrivals, especially from North Asia.
The two full-service carriers both saw significant increases in passenger revenue in the three months to 31 March, on the back of an upswing in passenger numbers.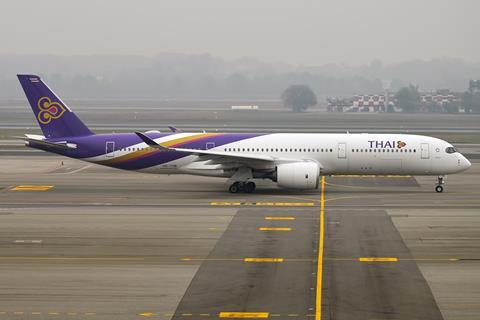 Thai posted a quarterly operating profit of Bt13 billion ($383 million) during the period, reversing the Bt3.2 billion loss in the year-ago period.
The Star Alliance carrier saw its revenue more than triple year on year to Bt41.5 billion, led by an "outstanding increase" in passenger revenue, which jumped seven-fold.
Thai flew more than 3.5 million passengers during the quarter, more than triple the number flown a year earlier. Capacity, meanwhile, doubled year on year, while traffic grew five-fold.
The airline's operating expenses were up 98% year on year to Bt28.5 billion, in line with an increase in flying activity.
Thai posted a net profit of Bt12.5 billion, reversing the Bt3.2 billion net loss in the year-ago period.
The airline says it is still implementing its business rehabilitation plan, and notes the "significantly progressive performance", along with improve fleet utilisation.
Thai sold off six Boeing 777-300s that "were not in the future flight operations plan" during the quarter, though it brought back one 777-200ER "to accommodate the growing passenger demand due to the recovery of the aviation industry". The aircraft is operating regional routes within Southeast Asia.
Meanwhile, compatriot Bangkok Airways reported an operating profit of Bt1.2 billion for the first quarter, a swing from the Bt826 million loss posted last year.
The carrier saw revenue increase three-fold year on year to Bt5.7 billion, with passenger revenue up four times year on year. Bangkok Airways carried 1.1 million passengers during the quarter, up more than three times compared to the year prior.
Costs for the period grew 80% to Bt4.5 billion, led by an increase in costs relating to flight operations.
Bangkok Airways reported a net profit of Bt875 million, compared to the net loss of Bt1 billion in the year-ago period.