Thai Airways International will merge its Thai Smile unit into the main company, to boost the combined carriers' efficiency.
Thai's creditors approved the restructuring of Thai Smile into Thai on 17 May, as part of Thai's overall reorganisation plan, says the carrier. The move also requires the blessing of Thailand's transport minister and the Civil Aviation Authority of Thailand.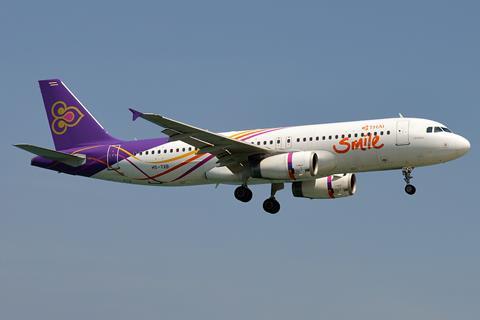 Thai indicates that the Thai Smile move is part of its overall restructuring road map, and expects the Thai Smile merger to be completed in 2023.
Thai notes that 99.99%-owned Thai Smile operates under its own Air Operator Certificate (AOC), meaning it manages operations independently of Thai. This reduces efficiency and hurts competitiveness.
Thai Smile also faces stiff competition from low-cost carriers. When Thai Smile is brought under Thai's AOC, Thai will manage its fleet planning, scheduling, and route network.
This will allow for the better coordination of short-haul and long-haul flights at Thai's Bangkok Suvarnabhumi hub. Thai envisages the new arrangement improving utilisation, lowering unit costs, and improving economies of scale.
Thai also indicates that the Thai Smile brand will be retired, while the latter's workforce will be merged with the mainline operator's.
The carrier adds that the move will "increase efficiency and effectiveness in marketing communication", which will reduce costs and increase its competitiveness.
Cirium fleets data indicates that Thai Smile operates 20 Airbus A320s with an average age of 9.4 years.
Thai also holds a 13.3% stake in low-cost carrier Nok Air.