Thai Airways International will return to service two Boeing 777-200ERs, as well as lease two Airbus A350s, as part of a fleet expansion plan amid "continued growth" in travel demand.
In its outlook disclosed alongside its full-year financial results, Thai states it will acquire nine new aircraft in 2023, in line with fleet requirements outlined in its business rehabilitation plan.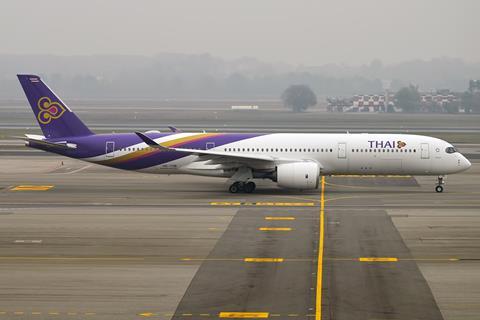 The two A350s, which will be delivered by the second quarter of this year will be deployed on flights to Stockholm, Jakarta and Melbourne.
It also expects to ramp up flights to Mainland China in the coming month, including to Beijing, Shanghai, Chengdu and Guangzhou.
The airline fell back to the red in 2022, despite seeing recovery in passenger travel, as it took a hit from foreign exchange and restructuring losses.
Thai posted a net loss of Bt252 million ($7.2 million) for the year to 31 December 2022, reversing the Bt55.1 billion profit in the year-ago period. The Star Alliance carrier also reported a pre-tax loss of Bt1.7 billion for the year, compared to 2021's Bt52 billion profit.
Full-year revenue more than tripled to Bt105 billion, led mainly by a significant increase in passenger revenues to Bt74 billion.
The airline carried 9 million passengers in 2022, an increase of more than five-fold year on year. Full-year RPKs jumped more than ten-fold, while capacity tripled compared to 2021.
Thai saw its operating expenses double year on year to Bt97 billion, with fuel costs increasing six-fold with a rise in flying activity.
One-time costs shrank against 2021, with the airline incurring a Bt1.5 billion loss on foreign currency exchange, as well as a Bt5.2 billion loss on debt restructuring.